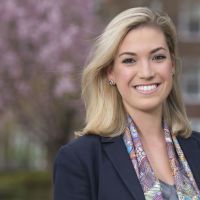 Industry
Function
Location
Undergraduate Education
School of Engineering & Applied Science, Columbia University
HBS Activity
Healthcare Club
Women's Student Association
Wine & Cuisine Society
Summer Internship
Business Innovation and Incubation Summer Associate, Healthagen (a division of Aetna Inc.)
Current Position
Strategy & Operations Associate, NeoCare Solutions, a Healthagen business (backed by Aetna Inc.)
"
I hope to affect lasting change on our healthcare system that makes the system more humane and accessible to individual consumers."
Why was earning your MBA at Harvard Business School important to you?
I had gotten to a point in my professional career where I was in leadership positions, yet did not have the capabilities I needed to be an effective leader. Having taken a rigorous engineering curriculum in undergrad, I wanted the opportunity to learn business principles in an academic setting. It was very important to me to use my two years in business school to focus on personal development. The HBS case method is incredibly unique and powerful in pushing one to think critically and quickly, to build and defend an argument, and to influence and persuade others-critical capabilities for effective leaders. Furthermore, I wanted to be at a place at the forefront of healthcare innovation where I would have access to and be a part of the latest thinking. At each layer-HBS, Harvard, and Boston-innovation in healthcare (e.g., new delivery models, digital health, etc.) is front and center. The level of access to thought leaders in the community and alumni network, as well as to entrepreneurs and established companies driving the latest insights and ideation is unparalleled. I knew that by pursuing my MBA at Harvard Business School I would grow extensively on personal and professional levels and would be supported in finding and pursing a variety of exciting career opportunities.
How has your overall Harvard Business School experience shaped your goals & career path?
I came to HBS wanting to spend my two years analyzing the unprecedented change we are seeing in the U.S. healthcare system-to understand what is driving the need for change and where the opportunities are for innovation-such that post-HBS I can apply my knowledge and leadership capabilities to impact the system. Through discussions within conferences, classes, and the healthcare club, and with alumni mentors and individuals in the broader Harvard and Boston communities, I have been exposed to a plethora of ideas and career opportunities. I have thus been able to explore various sectors within healthcare and potential career paths. The summer internship allowed me to try a new space that I had not considered prior to HBS and to discover a new passion: the use of technology and services to empower consumers to play a role in their own health care. I was then able to take classes the second year and to do an Independent Project to further explore my new passion and to identify specific companies and roles that fell within this area. I have been very fortunate to have phenomenal healthcare alumni mentors who have guided me through my journey, helping me to identify areas and opportunities that match with my skill sets and ambitions, and providing thoughtful advice along the way.
What are you most looking forward to in your career?
I am very eager to apply all of my learnings from my time here at HBS to make a difference on a variety of levels. I hope to affect lasting change on our healthcare system that makes the system more humane and accessible to individual consumers. I also look forward to building my own organization one day-to defining a mission and a vision and to building a team and the processes that support our collective goals. I also look forward to giving back and to mentoring future generations and serving as a role model.
How has Harvard Business School prepared you for your current role & your long term career?
HBS has taught me to think from a variety of lens and perspectives and to always be 10 steps ahead. The case method is an incredible simulation for the "real world". As leaders, we will have to make decisions that affect our companies and our employees personally and deeply, without all the information, and with an eye towards the broader impact these decisions will inevitably have. We will also have to explain and defend our decisions against a multitude of critics and influence and persuade those around us. This is precisely what happens in the classroom as we discuss the critical decisions facing the case protagonists. What better environment to develop these muscles and to practice different styles so that when we are in the position to make the decisions that matter, we make the right ones.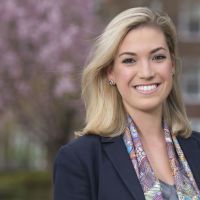 Industry
Function
Location
Undergraduate Education
School of Engineering & Applied Science, Columbia University
HBS Activity
Healthcare Club
Women's Student Association
Wine & Cuisine Society
Summer Internship
Business Innovation and Incubation Summer Associate, Healthagen (a division of Aetna Inc.)
Current Position
Strategy & Operations Associate, NeoCare Solutions, a Healthagen business (backed by Aetna Inc.)