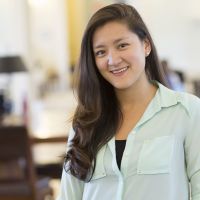 Industry
Function
Location
Undergraduate Education
Harvard University
HBS Activity
Co-President, Volunteers Club
General Management & Ops
Marketing & CPG
Social Enterprise
Design
Summer Internship
Pressed Juicery
"
I accept that my career trajectory may have a few bends in it, but the end goal is clearer, brighter, and more aspirational than it used to be."
Why was earning your MBA at HBS important to you?
I sought to expand the way I think about my career and business and the context in which both operate. I knew HBS would help me do so by exposing me to a diverse set of classmates, topics, and sides of many important debates, and it has more than delivered on this both in and out of the classroom. 
I also valued the opportunity for personal development through introspection, discussion, and experience. Various programs offered through the Field Immersion Experiences for Leadership Development (FIELD) courses, Career & Professional Development, and on-campus clubs offered such an opportunity.
How has your overall HBS experience shaped your goals & career path?
The overall HBS experience has pushed me to define my career goals not solely in terms of industries and verticals but also in terms of impact and passion. The Career Teams program prompted me to think on an individual level about what makes me tick and the strengths I can bring to the table. But then in the classroom we discussed leaders - from the junior analyst who sets a positive example to the iconic figure who reshaped an entire industry - and were challenged to think about how our personal strengths and passions can make a meaningful impact on an organization, a community, or society at large. To top it off, we have the fortune of interacting daily with fellow classmates who are avidly pursuing their greater goals and making a difference in their own inspiring way. 
The confluence of these inspired me to reexamine my career goals. I've gone from focusing on a role within an industry to thinking, earnestly and in concrete terms, about how I can make a difference. I now seek career opportunities that will leverage my strengths and provide learning experiences that enable me to be effective leader in pursuit of these goals. As part of this, I accept that my career trajectory may have a few bends in it, but the end goal is clearer, brighter, and more aspirational than it used to be.
What are you most looking forward to in your career?
New HBS cases are constantly being written to reflect new complexities of working in a global business context. Studying these make me more excited than ever to take on this evolving environment firsthand. I look forward to the constant challenge of proactively learning and adapting, on a personal and organizational level, to keep up with the rapid pace of change and innovation. 
The area of flux I am most excited about is the changing definition of business success, one that is increasingly expanding beyond the bottom line to include social impact at its very core. Start-ups and corporations have found many different ways to address this; disruptive ideas and business models emerge with greater frequency. I look forward to contributing to this exciting shift.
How has HBS prepared you for your current role and your long term career?
The HBS experience has prompted me to become more self-aware and introspective than ever before. As a result, I have a more realistic perspective of my strengths and weaknesses, as well as my long-term aspirations. This allows me to be more action-oriented when pursuing career opportunities. I was able to engage in the internship recruiting process with a clear sense of what I was looking for and how I could make a difference to an organization in a short summer.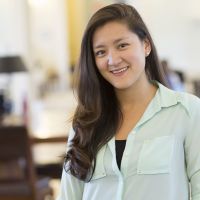 Industry
Function
Location
Undergraduate Education
Harvard University
HBS Activity
Co-President, Volunteers Club
General Management & Ops
Marketing & CPG
Social Enterprise
Design
Summer Internship
Pressed Juicery