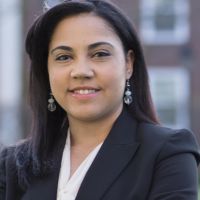 Industry
Function
Location
Undergraduate Education
Pace University, Accounting, 2008
Previous Experience
Univision Communications, Inc., Home Box Office, Inc. (HBO), General Electric, Goldman Sachs
HBS Activity
Christian Fellowship
Admissions Director for LASO
Latin American Club
VCPE
Entertainment & Media
Tech Media Club
Director of Alumni for WSA
"
I want to run a television network where I can shape and influence the culture, where I can change the world for the better through good programming."
In high school, Jackie Burgos, says, "I wanted to be an actress. Business was more something I thought of as a back-up plan." As she performed in student shows and remained active in the drama club, she was also accepted into the National Academy Foundation (NAF), a program that introduced her to college-level business classes during high school. As she got involved in both industries, Jackie's priorities, and her sense of direction, began to shift. "I wasn't getting the lead roles I wanted," she says, "but I was getting great grades in business."
Inspired, she pursued and secured a summer internship with Citigroup in Manhattan when she was only sixteen. There she found business mentors at the highest levels of the organization, including CEO Sandy Weill. "It was important to me," Jackie says. "No one in my family had graduated from college, I didn't know which one to go to, or what major to take. I heard that accounting was the language of business, so when I got a scholarship to Pace, which has a great accounting program, I went." There, Jackie distinguished herself, not just by her achievements in business courses, but through her leadership in several student organizations. "I was the youngest-ever president of the school's Latino Professionals in Finance and Accounting club and helped it become one of the school's most popular and well regarded clubs." With an appreciation for the value of networking, she increased the number of events from twelve a year to twenty-six, and held meetings not once, but twice a week.
Preparing for career options
In her junior year of college, Jackie visited the Harvard Business School (HBS) campus through the Management Leadership for Tomorrow (MLT) program, and was immediately impressed, she says, "by the school's mission to educate leaders who make a difference. I met a number of alums who all spoke highly of the HBS experience; their stories sold me right away." With HBS in the back of her mind, she explored a number of career opportunities that would expand her skills and grant her new perspectives: an internship with Major League Baseball, a summer analyst role with Goldman Sachs where she improved her quantitative skills, and most importantly, a position at Home Box Office (HBO) where she "found what makes me come alive: media and entertainment." She realized there that her passion for acting was driven by a desire to see more diverse characters and storylines on Television.
At HBS, the Career Services office has been especially supportive of Jackie's ambition to further continue her success in the Media and Entertainment industry. "I use all the resources I possibly can," she says. In addition to reviewing and offering feedback on her resume and cover letters, Career Services has reinforced her interview skills with preparatory questions and mock interviews. The work has paid off. This summer, Jackie will intern with The Raine Group, an investment and advisory firm for media companies. "It brings together my previous quantitative experiences with my passion for media," according to Jackie.
Taking flight to break new ground
But for Jackie, the HBS experience is not just about practical career preparation, but one that opens new possibilities in her life as well. When it came time to identify her top FIELD 2 destination choices, she deliberately picked China and India both far and foreign to her — and got India. "Choosing India forced me to do something I ordinarily would not do," Jackie says. Previously, her travel had been limited to domestic flights in the U.S. or the occasional family visits to the Dominican Republic. "I was actually terrified of flying so far away for so long," she says. But the experience, which involved consumer research for a water bottle for children, proved to be transformative largely because the adventure was not merely an individual one. "I talked to my family every night and exposed them to a wonderful nation that is very foreign for them," says Jackie. "They shared the trip. I feel like my family went with me to India."
After completing the MBA, Jackie says, she would "love to start my career by investing in media companies or by working directly in entertainment." Ultimately, "I want to run a television network where I can shape and influence the culture, where I can change the world for the better through good programming."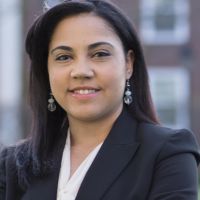 Industry
Function
Location
Undergraduate Education
Pace University, Accounting, 2008
Previous Experience
Univision Communications, Inc., Home Box Office, Inc. (HBO), General Electric, Goldman Sachs
HBS Activity
Christian Fellowship
Admissions Director for LASO
Latin American Club
VCPE
Entertainment & Media
Tech Media Club
Director of Alumni for WSA