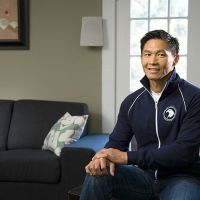 Industry
Function
"
Scott Wu brings a venture capitalist's approach to finding solutions to significant global challenges"
It's no secret HBS graduates are a hard-charging bunch who sometimes find it hard to take time off. Most eventually learn how to do this so they can recharge to do even harder charging—spending time at a beach, playing golf, climbing mountains, or the like. But Scott Wu (MBA 1994)…well, he goes places that aren't on most people's vacation lists.
"My wife often jokes that every vacation we've taken since we first met involves visiting an orphanage or refugee camp," says Wu, who is driven by a desire to help others just as he and his family were helped when they came to the United States.
"I was born in Taiwan, and my mother and I came to the States when I was just about five," explains the 46-year-old Wu. "When we first arrived, my family really struggled. Living through that process, we were assisted by organizations that were there to help us. That left a big impression—that even a little bit of help could make a big difference, and everybody just needs a chance."
Wu got his start in international aid work early. After getting his undergraduate degree from Dartmouth, he worked on development projects in Tanzania and with a center combating child prostitution in Bangkok. He has monitored refugee camps and volunteered in AIDS orphanages. He spent eight years as president of Aim High, an educational organization focused on inner-city, disadvantaged children. He was also cofounder of a Gates Foundation–funded middle school, and served as director of the International Institute of San Francisco. Wu is currently chairman of the US Committee for Refugees and Immigrants as well as a Presidential Innovation Fellow working on the Development Innovation Ventures project at the United States Agency for International Development (USAID).
And, keep in mind, these are just his side jobs.
Wu's private-sector résumé is also filled with enough experience for a couple of different careers. He cofounded and served as general partner of FTV Capital, a private equity firm with more than $1 billion of capital under management. He cofounded Blue Horizon Equity, a buyout firm focused on environmental sustainability, health and wellness, natural and organic consumer products, and business services. He was also a member of the founding team of Upstart, which is pioneering crowdfunding for recent graduates.
Wu credits HBS with giving him the skills he needed to succeed in both the private and non-profit sectors.
"HBS is very good at training leaders, and teaching problem-solving skills and building up the foundation of confidence, motivation, and outlook to attack a challenge," he says. "For much of my life I applied the skills I learned toward entrepreneurship and start-ups and the venture capital community; and on the flip side of my life, I've applied them when working on global poverty and inner-city education situations. HBS really showed me how to apply those skills to some of the biggest problems facing the world."
Right now Wu is particularly excited about being selected as a Presidential Innovation Fellow at USAID. The program, started in 2010, is overseen by the White House Office of Science and Technology Policy. It brings dynamic executives from the private sector, nonprofits, and academia directly into the federal government to innovate, collaborate, and make the government's international outreach efforts—from agriculture and education to health care—more effective and scalable.
Wu describes the work at USAID as "essentially a two-and-a-half year-old venture capital fund housed in the agency to invest in innovative ideas from any entrepreneur, businessperson, or academic trying to address the developing world's greatest challenges."
He believes this is the perfect opportunity to bring all his skills together in one project.
"USAID itself has, at a high level, a mission to end extreme poverty, to potentially save the world," he says. "This is really the first time I can take my professional expertise in venture capital and finance and apply it in this fashion toward entrepreneurs and others working on solutions to major problems of a different type.
"This isn't a handout; it's an investment," Wu adds. "We are using these funds to build sustainable businesses that will help people both by the products and services they deliver and by contributing to a stronger global economy."