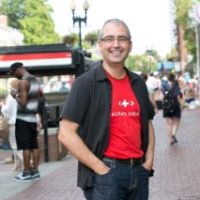 Industry
Function
Location
"
The end game is to transform health care with more and better collaboration"
The health care industry needs so much improvement, it will take a whole movement to fix it. "The more leaders, the better," says Luc Sirois (MBA 1997), who sees progress coming not through a single organization, but rather from groups of passionate medical and IT experts working together. His vision is Hacking Heath, a Montreal-based social collaborative that hosts weekend brainstorming sessions, or "hackathons," to spur innovation in the industry and, ultimately, save lives.
"The end game is to transform health care with more and better collaboration," he says.
The not-for-profit works this way: a project leader pinpoints problem areas and organizes a hackathon that is attended by an audience of 200 to 300 participants. Doctors and nurses on the front line engage with software developers who are eager to break through the industry morass—resulting, for example, in a simulation game for children with cystic fibrosis that teaches them skills to deal with their daily treatment regimens. The pace is scrappy and the conversation engaging. Since launching in 2012, HH hackathons have been held in major cities around the world, with early-2015 events planned in Paris, Strasbourg, and Windsor/Detroit.
"We've touched a nerve, and what we've unfolded so powerfully in Canada has been replicated just as strongly in other countries," says Sirois. "The reaction is intense and immediate."
The 45-year-old's cofounding of Hacking Health (with Dr. Jeeshan Chowdhury and others) was born of a lifelong idealism and drive to improve world. Sirois recalls his time at HBS as providing the spark necessary to direct his energies in the early days of the emerging digital superhighway.
"Technology was enabling a new world. It didn't have a name back then, but we knew it was the beginning of a new era," he says.
Sirois credits former professors Jeffrey F. Rayport (Managing in Cyberspace) and Howard H. Stevenson (Entrepreneurial Finance) with jump-starting his thinking. "It was like an epiphany," he says. "There were lessons on learning how to leverage the market of capital for innovation and growth to build new organizations."
Equally life-changing were the guest lectures taught by the likes of Jeff Bezos, who, at the time, was merely the founder of an online used bookstore. "To have those encounters right there, in school, was transformational," says Sirois. "In the early days of Yahoo, pre-Google, we were trying to think about how to have business models in those fields."
Another group of noteworthy campus visitors: Philippe de Gaspé Beaubien (MBA 1954) and his wife, Nan-B, whose deep roots in Canada inspired Sirois to return north following graduation from HBS. "They repeated what they told their own children: 'Why don't you bloom where you were planted? Contribute to the community where you were raised. Markets are international. You can build from anywhere. You can sell anywhere,'" Sirois recalls.
Sirois himself has done just that, working first for McKinsey & Company in Montreal and Toronto on graduating in 1997, and then in 2002 cofounding Resonant Medical, a medical company that developed 3D ultrasound technology that finds and tracks cancer masses.
"Our tool allowed for taking a picture every day, right before treatment, so doctors knew where the tumor was, the shape, the volume, and could shoot on it full force. It provided information so patients could have stronger, better treatments without destroying what didn't need to be destroyed," he says. "Today, all treatment is done like this."
In 2009, Sirois joined Telus Health Solutions as a vice president responsible for bringing innovative consumer products to market, and then moved to Nightingale Informatix in the EMR sector; but he found frustration in these firms' centralized approach to product management.
"History has proven how centralized processes don't work," Sirois says. "I wanted to prove that innovation from the bottom up is the better way."
In Hacking Health, he has found impassioned leaders in great supply. Among those committed to the cause are classmate Ellen Hackman (MBA 1998), who serves as a global advisor, and Charles Hill (MBA 1997), who is involved in the New York City chapter. Along with senior staff, Sirois is buoyed by the enthusiasm of the under-35 set that created the movement—launching chapters, organizing events, and making stakeholders work together in cities around the world—and by the thousands of participants who pay their own way (plus a modest participation fee) to take part in the hackathons.
"To have a movement of so many people who chose to join, just for the cause—it's mind boggling," he says.
As the movement continues to evolve, Sirois hopes to deliver impactful innovation that institutions and enterprises will adopt on a global level. "There is a strong desire to induce an industrial revolution," he says. "And if we can move the needle, these could be case studies at HBS one day."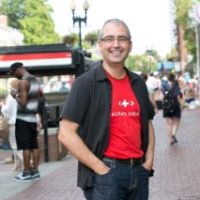 Industry
Function
Location