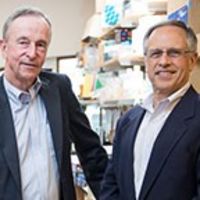 Industry
Function
"
HBS alums use a venture capital model to fast-track research on a cure for Alzheimer's disease."
Twelve years ago, when Henry McCance (MBA 1966) and his wife initially faced her diagnosis of Alzheimer's disease, the couple consulted some of the world's top physicians specializing in its treatment. McCance was shocked by their advice.
"They said, 'Try three Advil a day. It might help. There are a few FDA-approved drugs for Alzheimer's disease, and they won't help,'" he recalls.
McCance, a venture- capital pioneer with Greylock Partners, had spent 40 years as eyewitness to advances in technology that changed the world at breathtaking speed. From that perspective, it seemed "inadequate and unacceptable," as he puts it, that so little progress had been made to treat a dreaded disease identified more than a century ago and now afflicting five million people in the United States.
Friend and fellow venture capital investor Jacqueline Morby called him soon thereafter. She and husband Jeffrey Morby (MBA 1961) were launching a nonprofit to fight Alzheimer's and invited McCance to join them, along with Boston philanthropists Jerome and Phyllis Rappaport. They introduced him to Dr. Rudolph Tanzi, a Harvard geneticist focused on finding genetic links to the disease. He had already discovered three of the four then-known genes associated with Alzheimer's.
"Part of my skill set is I can recognize world-class talent when I see it," says McCance. "I knew he was the kind of guy Greylock would have backed if he had chosen the software industry as a career."
Tanzi explained that, owing to recent advances in gene sequencing and data mining, he believed he could identify many more genes in a short time with a relatively modest investment. That could lead to the major breakthrough the founders were after, because more genes with which to work would mean more avenues to explore in new drug development, exponentially increasing the chances of finding effective treatment and prevention.
In 2004, the three families founded the Cure Alzheimer's Fund (CAF) to support Tanzi's work and other Alzheimer's research. At McCance's urging, they based the organization on venture capital principles: locate visionaries and invest in them; run a lean, frugal institution; and take the risk on bold ideas with enormous promise.
Having discovered their first visionary in Tanzi, they set out to find someone who could double as a penny-wise administrator and a fundraiser. A mutual friend at Greylock recommended Timothy Armour (MBA 1975) to McCance as a potential consultant. Armour, who had some 20 years' experience in development and operations at nonprofits, including Harvard Business School, met with McCance over dinner.
"By the end of the dinner, I wasn't a consultant anymore," said Armour, now CAF's president and CEO.
Both men agree that Armour's HBS connection as an alumnus and a former staffer made him an attractive candidate even before the two met.
"We were a start-up, and we needed to find someone who was entrepreneurial, a self-starter. HBS teaches quite well the entrepreneurial spirit," McCance said.
The CAF partners asked Tanzi to recruit a dozen other researchers they had identified as standouts in the field and to urge them to apply for grants. And they made it clear that they were looking for ideas with potential to revolutionize the field quickly.
"We tell our scientists, 'Dare to be great. Bring us the projects that you can't get funded elsewhere.' We don't want safe, incremental science. We're not looking for a three-yard plunge. We want a 40-yard pass," said Armour.
True to the venture capitalist ideals of simplicity and thrift, the partners created a streamlined application process. Researchers submit three-page proposals and receive answers in a few weeks, rather than months or years. The process is liberating to scientists accustomed to spending up to 40 percent of their time on grant-related paperwork. That time can instead be devoted to solving the problem.
Embarked on his first nonprofit venture, McCance has found help and inspiration through HBS. At his 40th Reunion, he unveiled his new initiative to classmates as a panelist in a session about philanthropy, organized by Professor William Sahlman. He and Armour have also attended several conferences on the HBS campus devoted to nonprofits working to fight specific diseases. Attendees come away with new ideas, information, and a fresh sense of purpose.
CAF is beginning to see results. Thanks to its grant, Tanzi has discovered dozens of new genes related to Alzheimer's and found new causes of the disease's mind-robbing effects. Inflammation within the brain appears to play a key role, opening new treatment possibilities if the disease can be detected before symptoms develop.
"We've made great progress thanks to the venture research funding model; we wouldn't have been able to do this without it," said Tanzi.
Although McCance's wife will not live long enough to benefit from CAF's contributions to Alzheimer's science, he still looks to its future with tremendous hope.
"If venture research grows the way venture capital did," he said, "we'll be talking about a cure in 20 years."