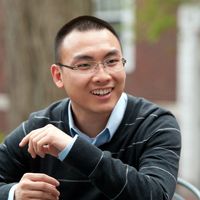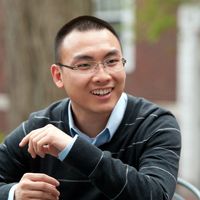 Home Region
Fuzhou, China
Undergrad Education
Stanford University, BSE and MS Mechanical Engineering, 2008
Previous Experience
CIRTEC Medical Systems; ForSight Labs; Heal Medical, LLC; FoxHollow Technologies
HBS Activities
Health Care Club co-president, 2011 Marketing for Healthcare Conference VP, Hospitality and Travel Industry Club, Sales Club, Greater China Club
"Without business acumen, you'll never get a product off the R&D shelf and into doctors' hands to benefit the patients who need it."
Zihan Lin's interest in medical devices is the natural consequence of his background. "My mom was an entrepreneur in China. My father was a medical doctor there," Zi says. "I had an affinity for medicine but not the patience for medical school. Engineering medical devices combines the hands-on, boy-stuff of the mechanical with the mission of medicine."
By the time Zi entered the graduate stage of his education, he had a firm focus "on two concentrations: design methodology and medical devices." In fact, his academic project work evolved into a real business: Heal Medical. In collaboration with three engineering colleagues and a cosmetic surgeon, Zi designed a superior, post-surgery "splint" to improve rhinoplasty recoveries and reduce revision rates.
Heal Medical has already moved beyond its provisional patent to the licensing stage. The speed was deliberate. "We made concessions to get the deal done so that we could learn from it. Without business acumen, you'll never get a product off the R&D shelf and into doctors' hands to benefit the patients who need it."
Broadening his thinking
The Heal Medical experience, Zi says, "lifted us out of a provincial, engineering-focused viewpoint. How do we form our company? Where? What's the accounting process, and who do we talk to about creating licensing agreements?"
By the time Zi completed his engineering master's, he knew he was destined for business school. Two years at CIRTEC Medical Systems confirmed his "innate feeling that my goal was not an engineering goal: I wanted to start my own company."
HBS impressed Zi with its health-care-industry depth. In addition to the Health Care Initiative on campus, "the Health Care club is 250 people strong — that's pretty significant," Z says. His expectations have not gone unmet. "For marketing, ethics, leadership, strategy — the cases are simply awesome. Sometimes, I just sit back and listen. Often, the insights from people outside the health-care industry are just so on point — that really speaks to the quality of the students here."
"The alumni network is immense," Zi says. "I found my summer internship almost entirely through networked recruiting. You expect people to be busy, but I'd say I got an eighty-percent response rate on the emails I sent."
Hitting specific goals
"My search was specific," says Zi. "I wanted a multinational, medical-device firm that was ramping up operations in China and/or Southeast Asia." He found that firm in Covidien, a medical-device company with a division based in New Haven, Connecticut. For Covidien, Zi will fulfill two weeks of training in New Haven, then spend the remaining summer in several countries in Southeast Asia.
"I'll be in the endomechanical division, supporting commercialization plans of surgical devices for the Southeast Asian market," Zi explains. "My job is to look at ways we can lower the price point to increase market share. I'll be interfacing with surgeons to find out which features are unnecessary — what can we de-engineer to lower costs?"
Ultimately, Zi is determined to launch his own medical-device enterprise. But along the way, he wants to "work at a large company. It's important to see how successful companies execute from product design to market launch."