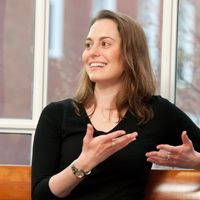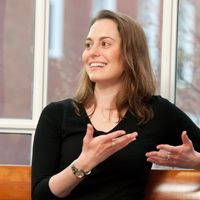 Home Region
Chicago, IL
Undergrad Education
University of Michigan, BA Communications/History of Art, 2007
Previous Experience
The Boston Consulting Group
HBS Activities
Section president; Retail & Luxury Goods Club, 2012 Conference VP, 2011 Conference Director of Operations; Marketing & CPG Club; Women's Student Association
"It's so much more compelling to have Joe Torre talk about teamwork than the usual CEO."
Throughout college, Sara Roedner spent her summers working at Steiner Sports Marketing, where she saw, "the power of sports to motivate people." Companies came to Steiner asking for athletes who could serve as spokespersons or make motivational speeches. "It really opened my eyes to the ways you can connect with consumers," Sara says. "It's so much more compelling to have Joe Torre talk about teamwork than the usual CEO."
After completing her BA, Sara accepted a position at The Boston Consulting Group (BCG). In addition to being, "a great intellectual opportunity to work with impactful companies," BCG offered a working environment Sara appreciated. "There are fewer post-undergraduate than post-MBA hires," she notes, "so there's less peer conflict. The competition is all internal; a push to do your best."
Competitive, yet supportive
At the three-year point, Sara realized that an MBA would best provide the skills needed for continued success in her career at BCG. "For me," Sara says, "the MBA brings confidence. It's a way of getting the business content clients expect that I haven't had exposure to yet."
HBS' emphasis on general management is especially appealing. "The Required Curriculum builds the skills I'll need to feel comfortable as a team leader," Sara says. "As a consultant, I'll have to work across multiple industries. Case study exposes me to new areas and gives me the ability to learn quickly about any given industry I might cover."
"My family and friends often ask me if HBS is competitive and the people here driven. I'm happy to report that it's a challenge — everything you expect about intelligence and drive is true. But it's also a very supportive environment, because we have diverse interests. And we all want to expand our networks, both professionally and personally."
Luxury goods and leadership
"There are so many opportunities at HBS that stand out," says Sara. "You can challenge yourself in any way you like, but you do have to focus. What do you want most among so many options?" Sara has already tested herself as a leader at HBS. As section president, she notes, "you're navigating a leadership position among your peers, which can be difficult. But it mirrors what will come later." In addition, Sara is Director of Operations of the 2011 Retail & Luxury Goods Club conference and will be one of the conference vice presidents next year. "Managing panelists, speakers, and vendors simulates the situations I'll meet in various consulting scenarios," she says.
In between managing classes and activities, Sara maintains a relationship with a boyfriend in Chicago. "I'm often told it's difficult to make a long-distance relationship work while getting an MBA," Sara says. They "try to see each other every month. Having him meet my sectionmates has helped; knowing what we're doing and who we're friends with helps build mutual understanding."
After graduation, Sara will return to BCG where her consulting roles will, "change every two to three years." But for her summer internship, Sara will stick with luxury goods, signing on with an innovative retailer, The Trunk Club, which provides a "curated" shopping experience for stylish men who prefer not to shop. "They're growing rapidly and the business model is constantly changing. I'll help with analyses and strategic questions."