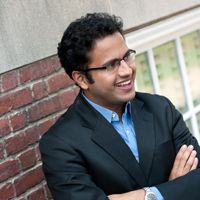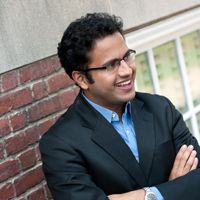 Home Region
Mumbai, India
Undergrad Education
Indian Institute of Technology, BTech Electrical Engineering, 2006
Previous Experience
The Blackstone Group – Corporate Private Equity; McKinsey & Co.
HBS Activities
Investment Club co-president, VC/PE Club
"Even busy managers and executives are eager to spend a half-hour helping a student figure out his career path."
Inclined toward math and physics and eager to learn among "the smartest people," Shantanu Rege went to the Indian Institute of Technology, "keen on engineering and looking forward to a PhD and a career in academia." In his third year at the Institute, Shantanu says, "I thought it would be a good idea to find out what PhDs actually do." He took a summer research internship in Lausanne and while he had "a great time" during his three-month stint, "I realized that working on one problem for five years didn't suit me."
After his early life "midlife crisis," Shantanu joined McKinsey & Co. for a year- and a-half, then took a deeper dive into finance. "It was 2008, and a lot of U.S. private-equity firms were expanding in India," he says. "I saw it as an opportunity to put my money where my mouth is, to take responsibility for my financial advice." Among other deals, Shantanu helped place $350 million in an independent power producer. And he gained time to reflect on his career.
Gaining clarity on the global picture
"To be a good investor, you need a global perspective," says Shantanu. "Investors from China, the U.S., Japan, India, and other countries are competing for the same pool of capital. I want to look at the macroeconomic trends to see how you should allocate capital in a globalized world. An HBS MBA pulls together the quantitative analytical skills I learned from engineering with the business skills — developing relationships, building consensus, managing teams — I learned as a consultant and financial analyst."
At HBS, Shantanu finds himself "surrounded by different geographies, different cultures," and discovers within these differences many new insights on familiar economic issues. "In a textbook, inflation is just a number. But when you have colleagues who've lived through it, you understand its real impact on life, families, and politics. You learn about what it means and how people live through it."
"A big part of my motivation is to explore the differences between developed markets and emerging ones," Shantanu explains. "Analyzing a three- to five- percent-growth business within a developed market is very different from interpreting a fast-growth business in an emerging one. Studying in the United States gives me a clearer understanding of the issues."
New ideas about leadership
After a semester at HBS, Shantanu's ideas about leadership have changed. "Before, I thought of it as achieving success. But now I think in terms of personal satisfaction and making a difference — regardless of how the world sees you."
Shantanu has experienced the more personal side of leadership in his efforts to contact alumni who could help him find an appropriate summer internship in public-market investing. "The Career & Professional Development database had around a hundred names of alumni in public markets. I wrote to all of them; at least sixty or seventy wrote back. Even busy managers and directors are eager to spend a half-hour to help a student figure out his career path."
For his own path, Shantanu wants to spend more time in the United States improving his investment skills, then return to India to start his own investment-management firm. "With leadership comes responsibility," he says. "You have to know your values in order to stick to your principles with conviction."