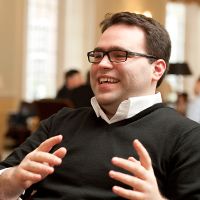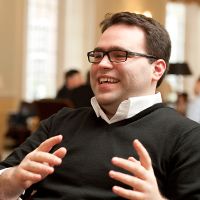 Home Region
Montreal, Canada
Undergrad Education
University of Montreal, BBA Finance, 2008
Previous Experience
Procter & Gamble; Transperfect Translations
HBS Activities
Section J president, Le Club des Francophones president, Marketing & CPG Club, Canadian Club, China IXP
"A Harvard MBA is not just a privilege, but a responsibility to make a positive difference in the world."
Chances are (metaphorically speaking), Sebastien D'Incau has been in your home. As a marketing strategist and planner with Procter & Gamble, Sebastien worked on a number or products familiar to consumers worldwide, including the Herbal Essences and Aussie lines of shampoos.
"I love the fact they're tangible products everyone uses," says Sebastien, a native-born Frenchman who grew up in Geneva and went to college in Montreal. "I could go to the most remote place in Canada, the tiniest town on Earth, and find P&G products. When you work with P&G, you know the products you manage are ultimately touching lives."
The people-centric aspect of consumer-product goods is what attracted Sebastien to business in the first place. "I have a math and numbers background," he says. "But I wanted to get beyond that. What I love about business is understanding people."
An accidental visit that turned into a calling
In his senior year of college, Sebastien happened to be visiting friends in Boston, when on a whim, he signed up online to visit a class at HBS. "Truth be told," he says, "After a business undergraduate degree, I was really skeptical about the value of a business education. To me, it meant a lot of money to read books and listen to teachers talk — not a ton of value."
"But I was absolutely thrilled by what I found at HBS: ninety people, full of energy and from all parts of the world debating ideas and really learning from each other. There was arguing, but with respect. Conflict, but also clapping and cheering. And the conflicts led to better ideas. By the end of the day, that was it for me. I knew I wanted to go to HBS." He applied and was accepted with a two-year deferral.
"You would never imagine you could get so close to so many people in one year," Sebastien says of the section experience. "At first, it's a bit daunting to be surrounded by so many smart people who have achieved so much. But everyone wants to know each other on a deeper level. We do two or three cases a day, we debate, argue, study and travel together — it creates a special bond."
"Here, I love the emphasis on creating value in the world," says Sebastien. "Not about creating value for ourselves, but for something bigger than ourselves. A Harvard MBA is not just a privilege, but a responsibility to make a positive difference in the world. Not necessarily a big difference leading a large company, but maybe a little difference helping in your community."
From China to Toronto
With its "Consuming China" theme, January's China IXP hit the sweet spot for Sebastien. "We got to contrast three different cities," he says, "and I got to interview Chinese consumers to help a sports-apparel brand refine its global strategy." Back-to-back visits to Google China and Baidu were also a lesson in contrasts. "Baidu was a Chinese lead company hoping to conquer the West in the next years. But Google was the search provider truly engaged in Western business practices."
After completing his RC year, Sebastien will spend his summer with Boston Consulting Group in Toronto, focusing his consulting on consumer goods. Looking past graduation, he sees himself returning to consulting with "a mix of CPG and other industries. I want to broaden my horizons."