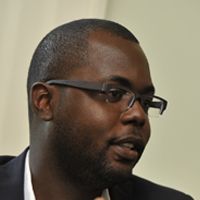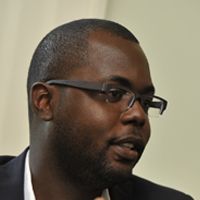 Home Region
Tunapuna, Trinidad & Tobago
Undergrad Education
Morehouse College, BA Finance, 2005
Previous Experience
Deutsche Bank Securities, Inc.
HBS Activities
Caribbean Club co-president, AASU, Entrepreneurship Club, Energy Club
"The relevance is mind-blowing. Sometimes I see something on the news in the morning that's the subject of a case in the afternoon."
At a summer internship with Deutsche Bank, Sekou Calliste experienced a "turning point" in his career path. "I had expected it to be very challenging," he says, "and it was. But it was also enjoyable, because so many people took the time to teach me things. Everyone had a vested interest in the interns. The lines of communication were always open and mentoring was common."
Among the things Sekou learned was that he should seriously consider further education. "From day one, I was introduced to the idea of looking at the MBA in general – and HBS in particular." The head of Sekou's investment banking group, Richard W Thaler, Jr., was an HBS alum. And the full-time employee who took him under her wing, Tiffany Craig-Herring, preceded him into HBS by one year.
Sold on leadership
"But the main reason I applied to HBS," Sekou says, "is its focus on leadership. Even though I've been in the United States since 2001, I want to return to my home, Trinidad. When I do, I want to exhibit the skills I've honed, to use them for the benefit of the island and the entire Caribbean region." Subsequent fact-checking reinforced Sekou's conviction. "I found HBS alums from Trinidad and contacted them – they all had leadership positions and were doing phenomenal things!"
But taking the lead, Sekou has discovered at HBS, "is rarely a black-and-white issue. The real difficult part of decision-making comes when you're handling the gray areas. When I hear what other students bring to cases, compared to what I had thought, I see that there are so many angles to a problem, so many various solutions I hadn't considered."
"The relevance of the HBS program is mind-blowing," Sekou says. "Sometimes I see something on the news in the morning that's the subject of a case in the afternoon. We're already examining issues such as the EU's response to the Greek crisis, the coming 2012 Summer Olympics in London. The global financial crisis? We're not just looking at the balance sheet impact, but at went wrong at every level – operations, management, corporate culture."
Pioneer of the Caribbean
Sekou is already exercising new leadership skills in his role as co-president of the Caribbean Business Club. "We're reviving our presence on campus with more activities and more joint events with other groups, such as the African American Student Union (AASU) and the Latino American Student Organization (LASO). Our annual conference is the only recognized HBS conference not held on campus. Last year, we held the Caribbean MBA Conference in the Bahamas; this year, Jamaica; next year, Barbados."
In preparation for his return to the Caribbean, Sekou is taking his summer internship at Deutsche Bank's sales and trading group in London. "I've done investment banking and research," he says. "I'm rounding out my experience to get ready for my goal: leading a financial firm in the Caribbean region. Traditionally, when one of our financial institutions does well, it's swallowed by a larger international player. I want to keep a successful firm local and grow it – to take it global."