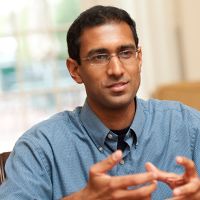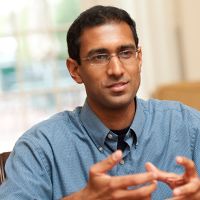 Home Region
Acton, MA
Undergrad Education
Cornell University, BSE Chemical Engineering, 2007
Previous Experience
Procter & Gamble
HBS Activities
Entrepreneurship Club, TechMedia Club, Social Enterprise Club, Energy & Environment Club, Outdoors Club, South Asia Business Association, India IXP
"The case method exposes you to different business models, different ways of approaching problems."
In his junior year as a chemical-engineering major at Cornell, Sparsh Bhargava got an internship with Dow Corning in Carrollton, Kentucky, population 3,846. And, by virtue of his presence, "increased the Asian population by twenty-five percent."
The experience was as novel for Sparsh as his presence was to the citizens of Carrollton. "Most of my education was theoretical," he says. "This was the first time I could get hands-on experience, see things I had learned about; like distillation columns and reactors." Specifically, Sparsh and his colleagues tackled wastewater and emissions treatment at the silicone processing facility.
"Before, they did a lot quality testing," Sparsh says. "We found that they could use a simple equation to balance inputs and outputs that would arrive at accurate emissions' estimates. Through this simple technique, they learned that they had been overestimating emissions by thirty to forty percent. As a result, they realized they had room for future expansion within regulatory guidelines."
After Cornell, Sparsh assumed various roles at Procter & Gamble, developing a reputation as an engineer and project manager that took him from cosmetic plants in Maryland to operations in Iowa City and Puerto Rico.
Step back, think, and grow
"At P&G," says Sparsh, "most of my work was about execution; I wanted to learn more about entrepreneurship. Getting an MBA would give me time to step away from work and think about larger ideas. It would also give me functional skills in areas I didn't know much about, like marketing and sales."
HBS' reputation in general management appealed to Sparsh. "For entrepreneurship, management skills would be really valuable," he says. Now that he's on campus, he believes that "the case method exposes you to different business models, different ways of approaching problems. And you can't overlook the caliber of faculty and students. I learn a lot, not just in class, but outside. There are many areas in which I don't have any background — but my friends have."
Other extracurricular activities include participation in the Arthur Rock Center speaker series and the January term India IXP in microfinance. "About twenty of us worked on consulting projects with the top microfinance companies." Sparsh was one of three students working with a company interested in launching a dairy business. "Milk is in short supply in parts of India," he says. "It's actually a great opportunity for a microfinance company to leverage its strengths in a different application."
Cool ideas
Sparsh is keeping an open mind regarding his upcoming internship and his post-MBA career. For the summer, "I'm looking at something in technology or social enterprise," he says. After graduation, "I want to learn how to learn how to launch and grow a business, something innovative, something built around cool ideas."