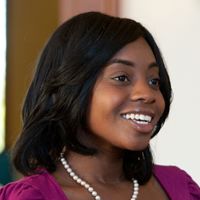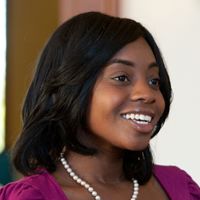 Home Region
Austin, TX
Undergrad Education
University of Southern California, B.S. Accounting and Business Law, 2007
Previous Experience
Ernst & Young, Risk and Operations Consulting
HBS Activities
AASU co-president, Christian Fellowship Club, Africa Business Club, Tech MediaClub, Retail and Luxury Goods Club
"This place is as representative of the real business world as it gets."
Stephanie Atiase's passage from California to HBS was foreshadowed by an even longer journey: her parent's emigration from Ghana to Austin, Texas, where they teach at the McCombs School of Business. Despite her family's influence, Stephanie initially did not see herself as a businessperson. "But over time," Stephanie says, "I came to see that business was about more than making money. I firmly believe that business is a way to have a huge impact socially. For-profits with a social mission can be stronger than traditional nonprofits."
As a senior at the University of Southern California, where she was a Trustee Scholar, Stephanie put her ideals into practice, becoming a co-founder of the Writing Our Dreams Project. "It's a program for charter schools that encourages literacy development," Stephanie explains. "Students in underserved communities write stories about their ambitions – dreams that are the first step to actualizing goals. We then turn their stories into live theater productions where kids can see their own words on stage. It's all about teaching kids the about the strength of words; the power of acting on their own dreams."
Quiet leadership
Stephanie's introduction to HBS came in the summer before her senior year of college, when she arrived on campus as part of the Summer Venture in Management Program. "I realized HBS was a place where I could augment my undergraduate studies in business – and learn about leadership itself."
Impressed and inspired, Stephanie applied to HBS, deferring her admission to work at Ernst & Young and acquire her CPA. "The thing about the Harvard MBA," Stephanie says, "is that you're challenged every day. This place is as representative of the real business world as it gets. Here, education is structured for interaction – you practically learn by osmosis. By nature, I'm an introvert. HBS forces me speak up when I wouldn't ordinarily do so. At first, it was hard. But by learning how other people think, you discover how you fit in the business world; you develop your own unique voice."
In fact, in her EC year, Stephanie is co-president of the African American Student Union (AASU). She notes that her organization isn't just representative of diversity at HBS – it is itself highly diverse. "Our members come from different socio-economic backgrounds and with different interests across so many industries," Stephanie says. "My real role as a leader is to help others find what they want to do with their AASU – and HBS – experience."
Developing organizations for growth and success
Stephanie embraces "the concept of servant leadership," stating, "Servant leadership has little to do with me and more to do with building the potential in others or an idea and seeing that potential empowered. I have found that my leadership abilities have never been defined by my own success but rather the success of others." Stephanie has been interested in learning how to design organizations that "foster an environment for the company to grow." For her summer internship, Stephanie joined a management consultancy focused on operating model design. After graduation, she hopes to work at the intersection of operating model design and growth strategy. Ultimately, Stephanie would like to be a entrepreneur—building a business that serves customers with a great product and society socially.
"I believe happiness is a state of mind," Stephanie says. "When you're invested in being at HBS – in the cases, in meeting with professors, and in cooperating with other students – you're more likely to have the 'transformational experience' HBS is famous for."