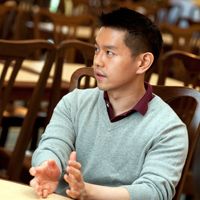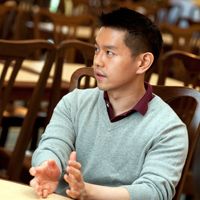 Home Region
Staten Island, NY
Undergrad Education
Cornell University, BS Business Administration/Commerce, 2007
Previous Experience
Ketai Realty Corporation; Tishman Hotel & Realty
HBS Activities
Hospitality and Travel Industry Club co-president, Real Estate Club, LGBTSA, China IXP
"I knew what I didn't know about leadership, and I wanted to explore opportunities that could make a difference."
Like many children who grow up with family-owned businesses, Richard Lou was expected to make his contribution at an early age. With three restaurants in Staten Island and Manhattan, Richard paid his dues, "back of house" with responsibilities like "washing dishes, mopping floors, prepping food." But his story deviates from the usual when Richard moved, as he puts it, "front of house." True, in the beginning that meant waiting on tables and interacting with guests. Within a few years, however, it became something much more ambitious: consolidating the business units and establishing a hotel-development arm.
"I became the middleman between my family and key business players, like the bankers and franchisors," says Richard. Part of his job was to translate for his family, but with his education from Cornell's School of Hotel Administration, his larger role was to manage the developments themselves. A property in midtown Manhattan became the 20-story Wyndham-branded hotel with 92 rooms; a second property in SoHo became a 120-room Courtyard by Marriott. In between, Richard took on additional development work with Tishman Realty & Construction, one of the largest construction firms in New York City.
An emotional attachment to business cases
With the SoHo hotel project, Richard rose to project manager. "It was a great experience transforming an idea to reality and working with my team to bring out their best," Richard says. But it also pushed him to his limits. "I knew what I didn't know about leadership, and I wanted to explore opportunities that could make a difference. An MBA would push me to the next level."
HBS was Richard's top choice from the start. "I had always listened to lectures," he says. "But when I sat in on a couple of HBS classes, it transformed how I thought about learning." As an example, Richard cites a case about Zipcars in The Entrepreneurial Manager (TEM). "The professor was able to draw out an amazing range of opinions on a very technical matter, a kind of multi-perspective approach. HBS is about learning from those in finance and marketing, but also from people with a background in in education and politics. The opinions are so diverse, yet all of them add value to the learning process."
Now that Richard's midway through his first year, he says he is, "experiencing everything I expected — and then some. I expected diversity and immense learning, but never expected the emotional attachment I have to cases. Being in the shoes of the protagonist and forced to make decisions makes me more engaged and gives me extra motivation to put thought and effort into my analyses."
Hands-on at HBS and in China
For Richard, leadership is not about learning from a textbook but being able to develop the skills. With colleagues from the Real Estate Club, Richard put together a Real Estate Symposium on campus. "We had excellent speakers and even though it turned out to be a snow day, we still had great turnout. I was especially pleased at how hard everyone worked and how motivated we all were to get it right."
In January, Richard participated in the two-week China IXP with Professor Koll. "Eventually, I'd like to do international development work, perhaps in China. Through the IXP, we were exposed to a lot of the political, legal, and business issues in a developing market in a short amount of time — a hands-on, on-the-ground experience. I don't know how else I would've done that without HBS."
For his summer internship, Richard is taking on something new: a strategy consulting role with Deloitte Consulting in New York. "It's a way to cultivate business fundamentals, to learn more about how businesses grow and adapt to changing competitive landscapes," says Richard. After completing his MBA, Richard expects to continue with consulting as a way to absorb leadership ideas from different industries. After he graduates, he hopes to apply lessons learned from HBS to, "evaluate opportunities from different perspectives and make a difference in his career."