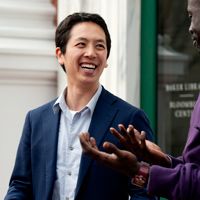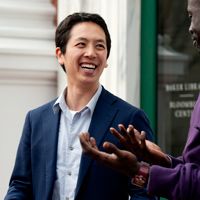 Home Region
Japan and Indonesia
Undergrad Education
Claremont McKenna College, BA Economics, 2006
Previous Experience
TPG Capital; Lazard Freres & Co., LLC
HBS Activities
Asia Business Club, Sales Club, General Management & Operations Club, Family Business Club
"This is exactly the right moment to take risks."
As a Japanese citizen who grew up in Indonesia, Ryu Kawano is certainly no stranger to multicultural diversity. But when it was time to get a college education, he came to the United States to experience even greater variety, despite a family-owned business that was open to him. Ryu deliberately choose a more challenging pathway. "I wanted to make a mark for myself," says Ryu, "to establish myself as a professional before I considered returning to Indonesia."
Ryu took on an analyst position with Lazard Freres & Co. where he, "learned how to evaluate company financials and determine where value is derived from." After a year, he accepted a position with TPG Capital in Tokyo. "Part of what attracted me was the opportunity to work in my home country — I hadn't lived or worked there before," Ryu explains. "And it was a chance to work in private equity in a country where it is still a relatively new industry."
An unexpected shift in interest
After almost three years with TPG and with the encouragement of his colleagues, Ryu decided that, "an MBA would be the next milestone before embarking on my own," and applied to HBS. "I wanted to experience the East Coast," Ryu says. "Plus HBS is recognized internationally, which should help open doors."
In his first year at HBS, Ryu opened an unexpected door himself. His participation in the India IXP, a two-week program in which Ryu and his colleagues were directly engaged in working projects, "inspired an interest in social enterprise that I hadn't had before." Specifically, Ryu spent a week consulting for one of the largest microfinance organizations in India serving a rural population. "We assessed a decentralization program that shifted authority and decision-making from headquarters to local offices. After interviewing people in the pilot office, it became clear that not only was it working, it was a necessary step for such a rapidly growing organization — they simply couldn't grow by controlling everything from one office."
The experience proved so rewarding that Ryu, with two HBS colleagues, submitted an entry in the social-venture track to the annual Business Plan Competition in April. "We want to create a microfinancing organization in Indonesia that's focused on housing loans," he says. "There is nothing like it in the market right now — we want to create a loan product that is larger and longer in repayment periods than the usual microfinance loans."
Building on HBS connections
To develop his ideas and find supporters, Ryu has found assistance from numerous HBS faculty who introduced him to housing and microfinance leaders, as well as people from Habitat for Humanity. Furthermore, "the Rock Center," Ryu notes, "hosts Entrepreneurs in Residence (EIR) available for consultation. I've been encouraged by many of the EIRs to take risks and follow an entrepreneurial path."
Putting his money and time where his mouth is, Ryu will use the summer to pursue his microfinance venture. "This is exactly the right moment to take risks — I'm doing it now." Long-term, Ryu plans on owning a business that will tie together interests in Indonesia, Japan, and the United States. "I want to be the bridge," says Ryu. "My long-term aspirations are to bring people and business ideas from the three countries together."