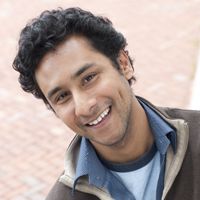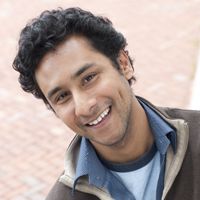 Home Region
Norwalk, CT
Undergrad Education
Cornell University, BSB Business Administration/Commerce, 2002
Previous Experience
Taj Hotels, Resorts & Palaces (a Tata Group Enterprise); Starwood Hotels & Resorts Worldwide; Sheraton Hotels of New York
HBS Activities
Hospitality & Travel Industry Club VP of Hotels, Wine & Cuisine Society, Venture Capital & Private Equity Club
"You're on stage. The professor is listening. Ninety students are listening. And you have to make an impact in thirty to forty seconds."
Rohan Gopaldas' parents and grandparents taught him the meaning of hospitality through simple home-cooked Sunday meals with family and their service in soup kitchens. They taught him the meaning of hard work, of what it takes to arrive in America as immigrants and build a life from the ground up. But most of all, as survivors of the Partition of India in 1947, they taught him the value of education. "They lost everything," Rohan says of his grandparents, who reminded him and his sister growing up, "While circumstance can take your possessions, the one thing it can't take is your education."
As a way to integrate hospitality and education — and on the advice of his grandmother, who suggested that Rohan's gregarious personality would make him a "good diplomat or hotel manager" — Rohan attended the Cornell School of Hotel Management. His subsequent career took him from New York City to Mumbai, India. "What I like about the hospitality business," says Rohan, "is making a tangible difference in people's lives." In Mumbai, where he assisted the CEO, Rohan found something else to like as well. "I loved the CEO's job and I thought, what do I want to do next?"
Entering an electric environment
To get to "next," Rohan turned to HBS. "I always wanted to run a hotel one day," he says. "But it's really important to get perspectives from other industries. HBS would give me a wide breadth of thinking."
Much of that thinking becomes manifest through the case method. "Everyone comes into the classroom on the same page," Rohan says. "Then the professor poses a question that takes the discussion in multiple directions. It's like improvisation or playing a game. You're on stage. The professor is listening. Ninety students are listening. And you have to make an impact in thirty to forty seconds. It's an electric environment, eighty minutes of pure engagement. And a great simulation of what we'll face in the working world.
"The faculty are amazing," says Rohan. "In most schools, faculty are incented to publish research. At HBS, faculty are incented to write cases — which are inherently about anticipating student needs. At no other school have I found faculty as student-focused as at HBS."
Weighing roles
Last summer, Rohan explored a role he hadn't experienced before, serving as an analyst with Global Leisure Partners, an investment bank and private-equity firm. "Bankers and investors play a large role in the hospitality industry," Rohan says. "I gained a lot of insight into how they think, what metrics they look at."
After completing his MBA in May, Rohan will pursue a management role with a famous fast-food franchise that's in a turnaround situation. Long-term, Rohan wants "to run a restaurant, hotel, or travel company that provides an unforgettable experience and a visceral service to people."