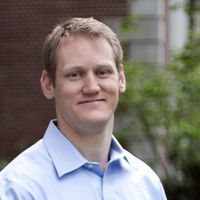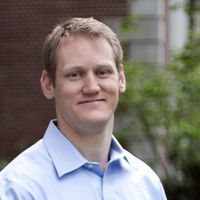 Home Region
Houston, TX
Undergrad Education
U.S. Naval Academy, Engineering, 2008
Previous Experience
U.S. Marine Corps
HBS Activities
Volunteer Consulting Organization, Armed Forces Alumni Association. Texas Club
"I like unsexy businesses. The more boring it is, the more excited I become."
Perhaps Rob Casper's previous experience as a Marine captain has given him sufficient adrenaline for a lifetime. Today, two years after completing his MBA at HBS, Rob has turned his career interests as far from the "adventurous" as one can get. "I like unsexy businesses," he says. "The more boring it is, the more excited I become."
Rob is not alone in his pursuit of what others might regard as dull. With support from the HBS network, he has set up a vehicle that will allow him to seek out and purchase a small family-owned company. "They've given me a great opportunity," he says. "It's not about a fast-track career. It's about relationships, learning, and rewarding the two gentlemen who believe in me."
"Frankly," Rob says, in reference to a prevailing investment model that favors startups and technology, "I don't have a great idea. I want to get my hands dirty creating a real product. I'm less interested in scaling a company than making marginal improvements and running the daily business successfully."
Because his search is still in progress, Rob is not at liberty to discuss specific businesses he is vetting. But he can talk about his general criteria: He is looking at first- or second-generation businesses owned by people approaching retirement who don't have successors capable of, or interested in, assuming the responsibilities of ownership. He prefers companies that create basic products or services we often need but rarely think about. "I like to go where others are not," says Rob. "If I can stay away from other 'smart' MBAs, good!"
Good, old-fashioned stewardship
Rob is the first to acknowledge that his approach may be deeply old-fashioned and even odd. "One day, I'm looking at a chocolate company; the next day, I'm at a window-washing service." Yet lessons learned at HBS remain important. "I learned how to learn—a very valuable skill," Rob says. "You're never going to map a case to a business file one-to-one; it's just not that simple. But from HBS, you do learn to how drill down, how to gather the relevant facts, how to analyze them. It's not about how a thing is like a case, but how it's different. That's where I learn something new."
For Rob, quiet success will be a sufficient reward. "Loyalty is so underrated now—everyone moves around," he says. "I would be content running a small company well and having good relationships with my employees. If you measure success by zeros in a bank account, that's going to be a sad life."
Fall 2015