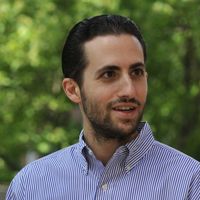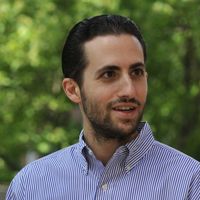 Home Region
Englewood Cliffs, NJ
Undergrad Education
Duke University, BA Psychology/Economics, 2005
Previous Experience
Bridgewater Associates, Paul Hastings LLP, McKinsey & Company
HBS Activities
Finance Club, VC/PE club, Investment Club, Entrepreneurship Club, Entertainment & Media Club, TechMedia Club, Golf Club
"What stays with you is the method of thinking."
From an early age, Roy Ben-Dor knew two things about himself: "I always wanted to go to law school out of intellectual curiosity," he says. "And since I was thirteen, I've been excited about developing businesses."
Roy's first experience was with his father's company, Libit Signal Processing, an enterprise that developed the cable modem chip set. "I worked on it for five or six years, then we sold it to Texas Instruments," Roy says. "I had been involved in everything: marketing, manufacturing, business development."
Then, at Duke, Roy spent four years at Cdigix, "a comprehensive, media service targeted at the college market and delivered over the local area network. In many ways, it was an extension of my father's business – a glimpse of the promised land of what broadband access could do."
Becoming a better problem solver
Roy saw the joint JD/MBA program as a way that "different skills, different bases, different content" could be combined to "make me a better thinker, a better problem solver – something that would differentiate me."
While there were other schools that had solid programs in either law or business, Roy says, "Very few have great programs in both. And Harvard's scale helps me find people with similar interests. In the Business school, for example, it's like having ninety teachers – you get every different point of view in the room."
"The case method is valuable precisely for the dialogue it fosters," says Roy. "We continually fluctuate in our roles. Sometimes we become teachers and share what we've learned, at other times it's more important to listen and learn from others. It gives you a richer understanding than lectures – what stays with you is the method of thinking."
New roles
In previous summers, Roy has interned with the Paul Hastings law firm on bankruptcies and private equity, and in a management training program with Bridgewater Associates. But this summer, his path takes a more personal turn. "Just after the semester ends, I'm getting married," Roy says.  His fiancee, Nicole Setzen, is a licensed attorney in New York and Massachusetts. And now she runs her own online retail site for brides and mothers-to-be: NiksNaksOnline.com.

While Roy may not become an entrepreneur as well, he seeks "a stimulating role that will challenge me.  I'd like to make a contribution to a business that has the capacity to grow.  In the long run, I'm interested in public service – I want to shape, not just a business, but our country."