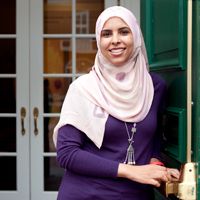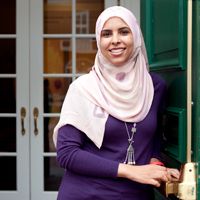 Home Region
Cairo, Egypt
Undergrad Education
American University in Cairo, BA Business Administration/Journalism & Communications, 2005
Previous Experience
Boston Consulting Group; LOGIC Management Consulting; Raya Holding
HBS Activities
Volunteers Club co-president, Venture Capital & Private Equity Club, Middle East North Africa Club, Social Enterprise Club, South Africa IXP
"It's not about functions in isolation; it's how they interact, the overall strategic view."
At the American University in Cairo (AUC), Rawiah Abdallah intended to study Arabic and comparative literature and develop her skills as a writer. She served as editor-in-chief of the student newspaper, but when it came time to initiate her career, journalism was out of the question. "There were too many restrictions on freedom of expression," says Rawiah, "To be true to your principles was risky."
Yet her volunteer work suggested an alternative direction. In high school, Rawiah tutored non-Arabic speaking students in Arabic and the Koran. At AUC, she "led a grassroots campaign that engaged students with Cairo's slum communities." One objective was to build a bridge between the privileged students and their less-fortunate neighbors. "The other goal was to develop the community, to improve lives," Rawiah says. Together, the students and community members administered health services, microfinance loans, and vocational training. They taught English and computer skills.
"I became very passionate about development," says Rawiah. "But I saw a lot of inefficiencies in NGOs and nonprofits. I felt I needed business skills to lead development efforts in the future." After graduation, Rawiah assumed ever-greater responsibilities in a sequence of jobs at Raya Holding, LOGIC Management Consulting, and the Dubai office of Boston Consulting Group.
Power of stories
"The truth is," Rawiah says, "HBS had been on mind even before I graduated." A campus presentation introduced her to the school, the case method, and the Social Enterprise Initiative, which especially impressed her. "My friends at NGOs felt they weren't getting much professional development in their organizations," says Rawiah. "I saw I could get that development myself at HBS."
"The case method is a good match to my learning style," Rawiah says. "I learn better through stories. And I like the way HBS approaches management. At most business schools, you study management by function. But at HBS, you often forget which class you're in because the cases always include multiple issues — finance, entrepreneurship, government policy — like the real world. It's not about functions in isolation; it's how they interact, the overall strategic view. You see how different forces relate to each other. And you discuss leadership in every course."
Rawiah got to experience a different region of her home continent when she participated in the South Africa IXP during January term. In addition to meeting "entrepreneurs, government officials, and business leaders," she and her fellow MBAs worked with local students on various projects. "We consulted with a solar-heating system provider on how to differentiate themselves and get brand recognition," Rawiah says.
Returning to Africa
For both her summer internship and her first post-MBA job, Rawiah is looking for something "in impact investing or working with small businesses in Africa. I'm very optimistic. After democracy prevails in North Africa and the Middle East, there will be great growth."