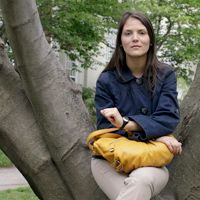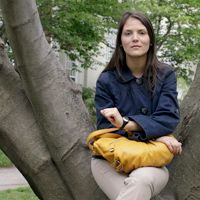 Home Region
Caracas, Venezuela
Undergrad Education
Universidad Metropolitana, Engineering, 2005
Previous Experience
Procter & Gamble
HBS Activities
Marketing & CPG Club, Entertainment Media Club, Jewish Students Association
"I heard from friends that it was the best two years of their lives, and I wanted to experience it, too."
Paola Lara studied software engineering for a simple reason: "I thought it was the future of the world." But once she immersed herself in the industry, Paola "realized I didn't want to be programming the rest of my life," and decided to make a different kind of future for herself. Introduced to Procter & Gamble by a friend, Paola quickly established herself as a talented manager in the company's Venezuelan and Chilean offices, assuming significant responsibilities for leading brands such as Head & Shoulders and Pantene.
"I wanted to touch lives in a broader way," says Paola, and to do that, she needed "to address shortcomings in areas like finance and strategy. I'd like to understand and communicate clearly on all business issues." Once she committed herself to getting an MBA, selecting the right program proved simple. "HBS' purpose is similar to P&G's: to improve lives through leadership. And I had heard from friends it was the best two years of their lives, and I wanted to experience it, too."
How much difference can a week make?
Paola expresses appreciation for the "amount of resources" the School dedicates to students – in terms of faculty preparation, recruiting systems, and personal coaching and support – yet reserves particular admiration for the richness of the FIELD experience.
"At first I was skeptical," Paola says. "Before the FIELD 2 trip to Cape Town, our only contact with the client was over the phone. I didn't think we had enough connection with them before we got there, and I didn't think we could deliver much value in one week."
Prior to their departure, Paola's team practiced their consumer research skills in Boston. Once they arrived to meet the client – a tourist operator looking for growth opportunities in domestic travel – they spent two full days "talking to everyone in the company to understand its business, its capabilities, its ambitions." Then they went into the streets to interview around forty people.
"The senior execs were impressed," Paola says. "It's not that we came up with any surprises, but that we were able to help them articulate their ideas and form them into a workable strategy."
Paola's long-term plans are still in flux, but she intends to work in an entirely different kind of business over the summer – with Keurig, the coffee company – and remains open to new possibilities. "HBS," she says, "is a great place to step back and look around."