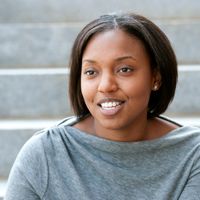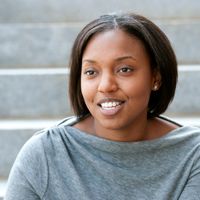 Home Region
Newport News, VA
Undergrad Education
Duke University, BA Psychology, 2006
Previous Experience
Boston Red Sox
HBS Activities
African American Student Union (AASU), LGBTSA, Management Consulting Club, Global Business Club, Rwanda IXP
"You hear your classmates' trains of thought; ideas you just can't get from papers or exam answers."
At Duke, Monne Williams wasn't satisfied with playing rugby or even working in the athletics office on sponsorships and corporate relations. Curiosity led to questions: "Who do companies sponsor? What's the benefit? What's the return for the team? How do you convince companies to sponsor?"
Seeking answers, Monne landed a college internship with Roush Racing, a NASCAR team based in Charlotte, NC. "I got to see how licensing and merchandising worked from the inside," she says. When Monne returned to Duke, she aggressively networked and interviewed for a full-time sports position. Then the unlikely happened: "The Boston Red Sox posted a job opening on the Duke website," says Monne. As it turned out, the recruiter had graduated from Duke and was looking for talent outside New England. "In Boston," Monne explains, "they were finding fans, but not necessarily people interested in sponsorships and merchandising."
Frankly, Monne's background played a big role in getting the job. She helped the Red Sox in its purchase of Roush Racing and the creation of a new entity, Roush Fenway Racing. "As a Southerner," she jokes, "I was the only person who knew what a NASCAR race was. It was all about being in the right place in the right time."
In subsequent projects, Monne helped create a fellowship program for graduates interested in sports marketing, worked on multiple diversity issues, and spearheaded the baseball team's efforts on a whole new field: social media.
Looking beyond the obvious
Yet while Monne "loved what I was doing in my dream job," she wanted challenges with greater range. "The social media projects were cool," she says, "but we were planning things on a weekly basis, rather than looking ten years out. An MBA would give me the content and skills necessary for transitioning from tactical roles to strategy and long-term planning."
A visit to an HBS class made a big impression on Monne. "The class was fascinating, but terrifying, because I couldn't see myself talking about all these topics. I really liked that while everyone came prepared, the professor would deliberately ask for something completely different. In real time, students had to think through scenarios where there were no obvious answers."
"The most valuable thing I've learned so far is that you can't know where people are coming from just by looking at them. Demographics isn't enough. It's when you find out that someone wrote a policy paper on the issue, or came from a home with immigrant parents, that you begin to understand their perspectives. The case method breaks this fallacy that if we have the same answer, we must have arrived there the same way. In our classes, you hear your classmates' trains of thought; ideas you just can't get from papers or exam answers. The exchanges, the things people say that I hadn't considered before, that's what stays with me."
Into the unknown
Even in her Rwanda IXP experience, Monne's journey took a detour into the unexpected. "We worked with a family radio station that wanted to increase advertising revenue," she says. "But as we dug into the issues, we found other areas where we could help: reworking their prospecting, improving their sales process, adding value to their contractual relationships. It wasn't until Rwanda that I realized how much I had learned; how much my thinking in January had changed from my thinking in July."
For her summer internship, Monne will consult with McKinsey in Atlanta. After graduation, Monne says simply, "I don't know. But I know the things I'll do next year – another IXP, a field study – will help me figure it out. I'm getting more and more comfortable not knowing now."