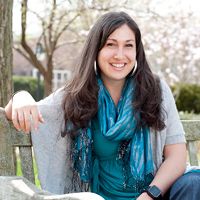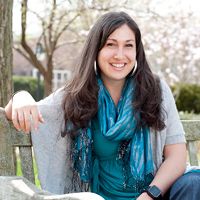 Home Region
Miami, FL
Undergrad Education
New College of Florida, BA Political Science/International Studies, 2004
Previous Experience
Mayor's Office, City of New York; Teach For America corps member; MTV Networks International
HBS Activities
LASO VP of admissions, HBS Show costume designer, HBS/HKS Joint Degree Student Council co-chair
"You can know everything you want about a subject, but unless you know how to navigate the bureaucracy, you're dead in the water."
By her junior year in high school, Max Tuchman was a hair's breadth away from dropping out. At issue were neither her grades nor conditions at home, but her disgust with the "poor quality of the Miami-Dade public schools," says Max. Just when she and her mother were about to sign papers, the school's guidance counselor confronted Max with a blunt question: What do you want to do with your life? "I told her I want to make change in my community," says Max. "That's when the counselor said, 'Wouldn't you be more effective with a high-school degree and going to college?'"
Convinced, Max stuck it out. But to improve her remaining high school experience, the counselor offered participating in an off-campus internship for which Max quickly secured a position at MTV, where she served as wardrobe stylist and production manager — and remained as a freelancer throughout her college career.
After college, and multiple roles in various local issues and political causes, Max joined Teach For America for the "two best and hardest years of my life." In that time, Max lost a student who was mortally shot at a football game, and endured "three hurricanes, plus three different principals in one year."
"Teaching in the classroom has a great impact," Max says, but by her second year of teaching "I knew I was made for district management; I could make a bigger difference by stepping up a couple of levels."
Nine months in Coro, a nonprofit, public-affairs leadership program, led to a job serving the first deputy mayor, Patti Harris, in the New York City Mayor's Office, affectionately known as "The Bull pen." Among the special projects Max tackled were the famed NYC Waterfalls public-art project by Olafur Eliasson and creating the NYC Service Office.
Building credibility from both sides
"My family didn't have money or a 'professional network,'" Max says. "I've always been helped by people who mentored me." Recognizing her ambitions, these mentors recommended HBS. But as she was applying, a friend suggested she look at the Harvard Kennedy School as well "to open doors in government."
"At the HKS info session," says Max, "one of the panelists said something that really registered with me: You can know everything you want about a subject, but unless you know how to navigate the bureaucracy, you're dead in the water. I needed credibility on both sides of the equation; public and private."
After her HKS internship as an Education Pioneer in the Washington, D.C. public schools' district office, where Max looked at the feasibility of extending the school day, Max began her RC year at HBS. "Coming in as a nontraditional student, it's been a fascinating roller-coaster ride," she says. "Even though I often feel so ignorant, I look forward to learning so much — there's a whole world I never knew about that I engage every day."
"One of the reasons I chose HBS was for the case study method. As an educator, I've long been a believer in differential learning — in teaching methods tailored to student needs. The HBS learning model is just right for me: First, I struggle with the material by myself, then I discuss it with my peers, and we refine our opinions. And finally, the professor facilitates a discussion that brings out all the things we may have missed. The comments, arguments, and interjections always keep me engaged."
District leadership
Max retains her goal of leading a public-school district. In the meantime, she'll be at Danaher for her summer internship "to expand my business-operations skills" and hopes to secure a position after graduation that would "apply private-sector skills to district-level challenges." But Max doesn't want to become overly obsessed with the interim steps. "One of things I heard from CEO speakers at Coro," she says, "is that it's great to have a goal, but don't become so focused on 'next steps' that you miss great opportunities that present themselves along the way."