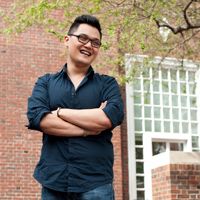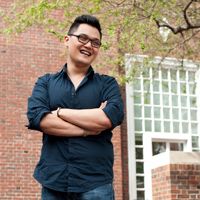 Home Region
Pasig City, Philippines
Undergrad Education
Ateneo de Manila University, AB Economics, 2006
Previous Experience
Pilipinas Shell Petroleum Corporation
HBS Activities
Director of HBS Show, Section J Historian, Entertainment and Media Club, Asia Business Club
"You will learn you have so many blind spots. Hearing many different opinions gives you a broader understanding of an issue."
Coming from a developing country, Mike Son was eager to learn "what levers could be pulled to hasten the development of people and resources. I'm very passionate about the Philippines and want to bring change on a large scale."
As an undergraduate, Mike studied economics and "took classes on making change at the community level; on the causes of poverty and how to address them." But in his senior year, the promise of a "free week's vacation" gave him entrée to his first real-world business experience. "Shell sponsored a week-long simulation game for fifty seniors from the Asia/Pacific region," he explains. "They wanted to see how we worked, take the measure of our motivation. From my perspective, I was impressed by how much they prized talent." Intrigued by the potential to "really understand how an economy interacts with an important commodity," Mike accepted an engagement with Shell that lasted four years.
Responding to the right challenges
In one of his last, big assignments, Mike was responsible for selling a new road-making product, Instapave, in an important new market, the Philippines. Despite the advantages of an asphalt that could be applied without heating, Mike found market adoption difficult. "Let's just say I faced 'entrenched interests,'" Mike says, warily. "The experience exposed me to the real world — of practical things you have to do and their consequences. I felt I was not responding to the right challenges; that maybe selling petroleum was not the right way to change things."
Inspired by his father, who completed an HBS Executive Education program in 1981, and enthusiastic about a general management focus that "would allow me to enter other fields and not constrict my options," Mike came to HBS for his MBA.
"HBS' guiding principle — educating leaders who make a difference in the world — is very much aligned with my Jesuit upbringing," Mike says. "Among business schools, it stands out for its focus on leadership rather than 'hard' business skills."
Reflecting on the HBS experience, Mike says, "As an Asian, it has been a real struggle for me to speak up among ninety people. At first I was tentative — I thought I had to say something perfect. Now I feel comfortable just having an opinion, defending it, and being open to changing it. I've learned to really 'slug it out' in the classroom. In the end, I know something better will come out of it."
"There's a real benefit to having such a large diversity of cultures and backgrounds," Mike says, of section life. "You will learn you have so many blind spots. Hearing many different opinions gives you a broader understanding of an issue."
The show goes on
Even as Mike pursued his interests in business, he never completely abandoned his love of singing, acting, and just plain performing. "I'm a huge, huge Broadway musical junkie," Mike says. Not surprisingly, given his talent and experience, Mike has taken the helm of the 2011 HBS Show entitled "Somewhere Over the Footbridge" and won acclaim from the HBS community.
For Mike, the real surprise is that his interests in art and business do not have to be mutually exclusive. "On top of using my artistic abilities as the Show's director," says Mike, "I have to apply my marketing skills to attract an audience. And it's training me to become a leader, a manager of people with conflicting priorities and convictions."
Encouraged by his HBS Show experience, Mike has accepted a summer internship with the Lincoln Center for the Performing Arts. "It's a synthesis of two personalities, of the artist and the businessman — a great way to bring both together." In the future, Mike would "love to bring the arts-management discipline back home to the Philippines to educate children and provide opportunities for growth."