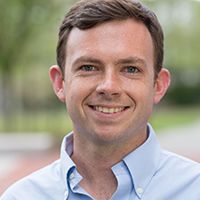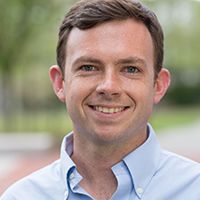 Home Region
Clark, NJ
Undergrad Education
Princeton University, Politics, 2009
Previous Experience
Reed Elsevier; Amazon.com
HBS Activities
Entrepreneurship Club, Tech Media Club
"I could test my ideas to see if they're really what I want to do."
When Mike Monagle was at Princeton University, the undergraduate obligation to learn a second language became an unexpected inspiration for an enduring interest. "I took Mandarin on a whim," Mike says. "I thought it would be relevant and fun." In the summer between his sophomore and juniors years, he participated in the university's "Princeton in Beijing" immersion program, just when the city was preparing for the Olympics.
A year later, Mike returned to Beijing to gather material for his independent-research project that combined his passion for Mandarin with a growing interest in business. "I interned with Amazon.com in China," says Mike. "I got to see an established American company work in a very entrepreneurial setting."
Entrepreneurship at the core
After graduation, Mike spent a number of years with Reed Elsevier where he worked as the Chief of Staff to the Chairman of a portfolio business and then moved into a strategic role managing company interests in Asia. As it became clearer that Mike wanted to build a business of his own, he recognized a need to expand his skills and "reflect on my future," he says. "In the right program, I could test my ideas to see if they're really what I want to do."
HBS proved to be the best environment. "It has a time-tested curriculum," Mike says. "The school has a history of producing extraordinarily successful people. And the new FIELD program augments the core to help you understand how to build a business."
An immersion experience for the masses
"My experience learning Mandarin made me appreciate how fortunate I was to have Princeton's immersion program," says Mike. "But most people don't have that. First of all, the time and travel issues make immersion difficult. And they're expensive." In conversations with a like-minded friend, a business idea emerged: a service that provides local, immersion-based language experiences for one day or over a weekend. "Think of it as a kind of language boot camp," Mike says.
The idea, called "Lingua," appealed to the committee overseeing the Rock Center Accelerator Award, which gave Lingua $5,000 to test the business along lean startup principles. "We're testing three things," says Mike. "We'll look at demand – who's the target, and what should this product look like for them? Then there's the product itself, the boot camp: is it effective? Finally, we'll explore ways to build out an ongoing community of language learners, a social network online and off."
In addition to testing Lingua, Mike plans on continuing to test himself. In his FIELD 3 experience, he and his teammates are experimenting with a men's reversible belt that can worn for either casual or formal occasions. For the summer, he's investigating options for working with a startup. "I want to know what I might be getting into," he says, "before I graduate."