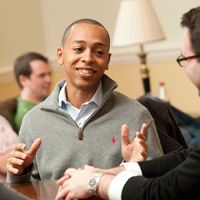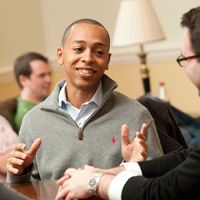 Home Region
Fort Lauderdale, FL
Undergrad Education
University of Virginia, BS Accounting and Finance, 2006
Previous Experience
PricewaterhouseCoopers; Convention, Sports & Leisure (CSL) International; Pharos Capital, LLC
HBS Activities
Entrepreneurship Club, Tech Media Club, AASU CFO, Outdoors Club
"I realized there would come a time when what really matters is management leadership."
Negotiation has always been a part of Matthew Mariner's life — including his home life. "Growing up, my dad and I always made deals," Matthew says. "If I got good grades, I could get rewards." Ultimately, many of these agreements had long-term consequences; including, per his father's encouragement, allowing Matthew to "put HBS on his radar."
Matthew's first exposure to business came through the LEAD program, a national, minority-business initiative that hosts activities throughout the U.S. "I spent four weeks at the Anderson School of Business, and it really opened my eyes," says Matthew. "I had a strong interest in math, but I didn't want to be a math major. I realized business could unite my quantitative interests with my desire to interact with people."
Matthew's subsequent work career expanded his vision. At Pharos Capital, "I enjoyed talking to entrepreneurs, and I often took the lead in discussions. However, often I wished I was on the other side of the table. I knew that working five to ten years in private equity wouldn't get me there; I needed a different set of skills." A six-month term at a sports consulting firm exposed him to the public-sector part of business. A couple of years with PricewaterhouseCoopers, "allowed me to explore a variety of industries and ultimately helped me find my true interest: technology."
The power of synthesis
Facing a crossroads, Matthew wanted an MBA that emphasized general management. "I realized there would come a time when what really matters is management leadership. I've found that to be the toughest part about business: That's what makes or breaks success." From then on, HBS moved off his radar screen and into his life.
"At HBS, you're not only able to learn about leadership in the classroom, but you also see how other people do it," Matthew says. "I can't think of any place else where you can have this kind of opportunity. I've learned to accept that there's no one right answer — and that you won't be successful if you insist that there is. Communication is key! Because there's often something to take away from everyone's perspective in reaching the optimal outcome. As smart as I try to be individually, the thing I work on most is bringing the best ideas together."
Crossing to the other side
Once an analyst who evaluated entrepreneurs, Matthew now wants to be an entrepreneur evaluating opportunities. "My summer internship will be either with a startup — or I'll start something myself." With entrepreneurship in mind, Matthew had learned a few coding languages a few years ago. "Now I'm eager to put those skills to work."
Next year, Matthew intends to enter the business-plan competition, "with something that combines technology with finance and accounting-related functions; an online service for certain consumers and small businesses." The ultimate destination? "I want to make a positive contribution to the world," Matthew says. "That's why I love technology; it offers tremendous benefits to a large number of people at a relatively low cost."