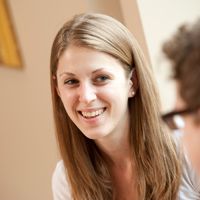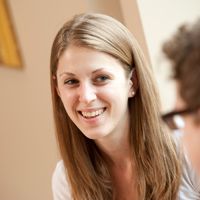 Home Region
Toronto, Canada
Undergrad Education
Northwestern University, BSE Mechanical Engineering, 2004
Previous Experience
Clinton HIV/AIDS Initiative, The Bridgespan Group, Bain & Company
HBS Activities
African Business Club, Social Enterprise Club, Outdoors Club, Canadian Club, Pitch for Change co-organizer in business plan competition at Social Enterprise Conference
"What I love about HBS is the wealth of resources available for learning about social investment."
Late in her undergraduate career at Northwestern University, Marie Kyle experienced a dramatic shift in priorities. Her original enthusiasm for engineering and aerospace design had been tempered by her initial career inquiries. "Most of the available positions were more about manufacturing than design," Marie says. "That wasn't what I wanted to do." After a heart-to-heart conversation with her sailing coach, she realized that she, "loved the problem-solving aspect of engineering," and, with her coach's support, looked at opportunities in consulting.
A position at Bain & Co. led to an "externship" with The Bridgespan Group, a consultancy founded by a former HBS professor focused on the unique challenges of the nonprofit world. Within months, an interest that had been a sideline at college — Marie was an avid participant in the annual dance marathon that raised money for local nonprofit organizations — became a passion she was determined to pursue. At Bridgespan, Marie developed a new case-management system for a Philadelphia family-services provider, collaborated on an internal project to help philanthropists set investment priorities, and worked with a firm helping retirement-age clients find opportunities for community involvement.
In turn, Bridgespan led Marie to the Clinton Health Access Initiative where she helped open a new office in Zambia. "My original plan was to stay for one year," says Marie. "But after three months, I knew there was no way I could leave so soon." She took an eighteen-month operations role establishing pediatric HIV testing and treatment programs, then worked for another eighteen months in New York as a strategic assistant to the Initiative's CEO.
Taking a chance on the new
The Clinton Health Access Initiative, "sparked a passion for the development sector," says Marie. But she wasn't satisfied with the standard aid packages she saw in emerging markets. "I wanted to look at ideas outside the traditional foreign-aid models and became interested in social investing. But I had gaps to fill in my education, in understanding finance and entrepreneurship. With my MBA, I want to take a chance to learn more about investment I could get behind."
With innovation in mind, Marie came to Harvard. "What I love about HBS is the wealth of resources available for learning about social investment. Here, I can take classes with Michael Chu, one of the thought leaders in this field. And I've been surprised by how many students share my interest in social investing; in fact, several of them have already worked in it."
Marie has also been, "really struck by how effective the case method is. It's particularly impressive for someone like me who wants to go back to school, but not sit for more passive lectures. I love how engaging the cases are, how we get to solve problems every day. I've been surprised by how many times I've changed my mind, based on input from classmates who looked at the problem in an entirely different way."
In fact, the student community is a big part of what makes HBS special, Marie believes. "It really stands out, the way students here are so generous with their time. I want to work internationally and the diversity of the student body here, the breadth of the network, is amazing."
Pitch for Change
Even though Marie is still weighing options for her summer internship, that hasn't stopped her from asserting leadership within the social-enterprise community. With a colleague, she organized the Pitch for Change competition for the Social Enterprise Conference, an opportunity for social entrepreneurs to compete for $6,000 in seed capital and three free hours of nonprofit consulting time.
"Ultimately," Marie says about her future plans, "it may be about social investing. This summer will be a good test to see if it's the right fit."