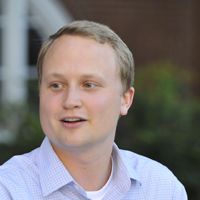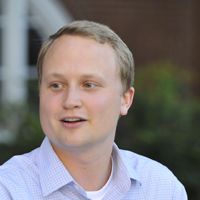 Home Region
Bernardsville, NJ
Undergrad Education
Williams College, BA Economics, 2004
Previous Experience
Goldman Sachs, J.P. Morgan Securities, Inc.
HBS Activities
Section I Leadership and Values rep, Christian Fellowship, Board of Advisors for Leadership Institute at Harvard College
"I saw firsthand the power of capital to transform lives."
Whether on his own or within a team, Mark Gundersen loves to solve problems. So when a college friend told him about a microfinance initiative in Nicaragua, he was eager to jump on board. "It was World Relief, a nonprofit founded by a Harvard Kennedy School alum," Mark explains. "The experience absolutely made me come alive. I spent most of the summer analyzing financials and modeling loans. Then one afternoon, I got a chance to meet the people we were making loans to. A farmer wearing a 'World's Best Dad' T-shirt told me he was growing his farm so he could send his children to school. For the first time in my life, I saw firsthand the power of capital to transform lives."
When he returned to Williams after the summer, he considered going directly into nonprofits upon graduation. "But my mentor advised me not to. He said I would have greater impact if I acquired tangible business skills first." To get them, Mark joined J.P. Morgan in New York, where he found a global perspective on business; then after three years of investment banking, moved to principal investing at Goldman Sachs.
Valuing "mistakes"
Mark applied to HBS "because the general-management program appealed to me. But I've become an enormous fan of the case method. From a career perspective, great investors are able to recognize patterns in companies and markets and apply that insight to their choices. That's exactly the skill the case method develops. I've been part of about two-hundred case discussions so far and have been able to see trends: what makes a good management team; what distinguishes wise decisions; which type of strategies tend to succeed."
"I've learned as much or more from failures as successes," Mark says. As an example of the power of "mistakes," Mark recalls a case in which the protagonist, CEO Anne Mulcahy of Xerox, spoke to the class for twenty minutes after the case discussion. "The company was on the brink of bankruptcy when she took the position," he says. "At first, she was roundly criticized for decisive actions that were initially unsuccessful. But she told us if she hadn't made the initial mistakes, she would never have discovered the things that led to the company's turnaround. It's a lesson I'll never forget." Another lesson: "Small things lead to big things," Mark says. "It's very difficult for leaders to make ethical decisions in moments of crisis if they don't have a history of making ethical decisions in seemingly small matters."
Steps ahead
Today, Mark is reciprocating the mentorship he received at Williams by serving with the Leadership Institute at Harvard College where he mentors undergraduates. After completing his MBA, "I plan on returning to private equity, but with a renewed sense of strategy and governance," Mark says. "Long-term, I'd like to be involved in international development and microfinance, with an eventual goal of shaping prudent public policy that allows small businesses and entrepreneurs to flourish."