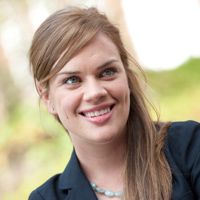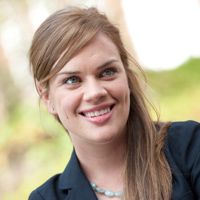 Home Region
San Francisco, CA
Undergrad Education
University of Georgia, BA Political Science, BBA Marketing, 2005
Previous Experience
Gap Inc.
HBS Activities
Retail & Luxury Goods Club, Marketing & CPG Club, Canadian Club, Impact Initiative, China IXP
"If you can defend your ideas to ninety smart people you respect, you're well-prepared for any meeting you might have later on."
In high school, Michelle Giguere, "fell" into the Gap and never left, working part-time at the apparel retailer throughout college and returning full-time after graduation. "I loved the mix of fashion with the energy of customer service," Michelle says.
The attraction was mutual. After completing a nine-month Retail Manager Program of rotations in San Francisco, Michelle acquired merchandising responsibilities for menswear, infant clothing, and ultimately, "the entire toddler boys and girls product assortment for all Gap Outlet stores. As the merchandiser, I was the voice of the customer in any meeting — a nice blend of analytical skills and marketing."
Challenging herself to lead
After several years at Gap, Michelle realized "If I wanted to be a leader, I needed a more well-rounded perspective on business as a whole. An MBA would help me balance the depth of experience I had in marketing with a breadth of new abilities in finance and management."
The case-study method sold her on HBS. "I was drawn to the level of participation it requires," Michelle says. "I see it as a way to challenge myself to be more vocal with my opinions. If you can defend your ideas to ninety smart people you respect, you're well-prepared for any meeting you might have later on. What can someone throw at you once you've experienced that on a daily basis?"
About student life, Michelle observes that "Everyone is not just genuinely interesting, but interested. When you have so many people coming together with so many different experiences, you learn as much from your classmates as you do from the content of the cases themselves."
Reaffirming her direction
In January, the China IXP gave Michelle an opportunity to see "the inherent differences between running a brand in China versus running one in the United States." Overall, Michelle's HBS experience to date has given her renewed perspective on her career. "Realizing how many options there are can be overwhelming," she says. "The school forces me to define what's really important to me. It's allowed me to stop and think about what I love about retail; if I go back, it will be with renewed passion and excitement, because I'll know it's what I truly want to do."
With an upcoming internship with American Express in New York, Michelle will have a chance to "experience consumer marketing from a different angle. My post-graduation plans are still a question mark. I just want to see what happens this summer and next fall and take it from there."