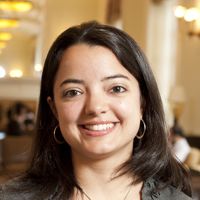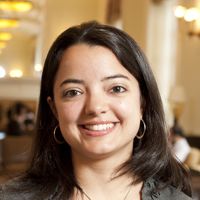 Home Region
Lima, Peru
Undergrad Education
University of Lima, BIE Industrial Engineering, 2005
Previous Experience
Citibank del Peru SA
HBS Activities
Latin American Club VP Admissions, Volunteers Club CFO, Management Consulting Club, European Club, Women's Student Association, Section H volunteer coordinator
"You can't lead successfully if your team doesn't genuinely want to follow."
Margarita de la Piedra Carrillo was attracted to industrial engineering (her undergraduate major) for one of the same reasons she was ultimately attracted to business: "to optimize processes, not just in manufacturing, but in any kind of business function, such as finance or marketing."
During her last year of university, Margarita interned at Citibank del Peru's Quality and Innovation area to streamline asset-based finance projects and "reduce workloads." After graduation, Margarita transferred to Credit Risk Management Services, and was actively involved in a major regulatory project for the bank, which included automating risk controls and coordinating with colleagues in Peru, Argentina, and India. A promotion to corporate compliance increased the complexity of her role, exposing Margarita to "ambiguous circumstances in which we had to apply careful interpretations of policy." Simultaneously, she volunteered once a week with Junior Achievement, "teaching the fundamentals of banking to high-school boys and girls who wanted to learn how banks work."
Moving from back office to front lines
After five years with Citibank, Margarita says she "wanted to change jobs out of control issues into making decisions and driving results. I want to get out of the back office and into the front lines with clients."
Margarita sees the MBA as an important way to help her make the transition. A visit to HBS confirmed her new direction. "I love the way the case method doesn't focus on memorizing theory, but on applying what you've learned by analyzing situations. I wanted my MBA to give me something I can't get from books; case study is the difference that can help me make better decisions as a manager."
To apply her new skills, Margarita interned with McKinsey over the summer in consulting roles that put her in direct contact with clients. In her Elective Curriculum year, she was part of a field-study team working with Pro Mujer (an NGO that provides microfinancing, business training, and health-care support to women, and also worked on an Independent Student Research project exploring the challenges and opportunities for women executives in Latin America.
Breaking assumptions, embracing ambiguities
Once she completes her degree, Margarita will return to McKinsey in Mexico City to consult on a broad range of business issues. She'll bring a leadership style that has matured through her HBS experiences. "I've learned to discover more about the people within a team — how their backgrounds shape their opinions," she says. "You can't lead successfully if your team doesn't genuinely want to follow. It's not difference of opinion, but why those opinions are different that matters. People work from different assumptions you need to be aware of to reach agreement and achieve buy-in."
For Margarita, the goal is not perfection. "Situations can be ambiguous — we need to be comfortable taking measured risks. You don't need a perfect answer, but you do need a team you can rely on that can move forward."