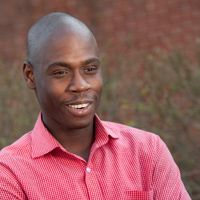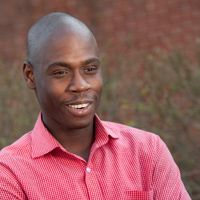 Home Region
Abuja, Nigeria
Undergrad Education
Howard University, BS Chemical Engineering, 2007
Previous Experience
Kaizen Venture Partners; Amal Sale Association; UBS
HBS Activities
Soccer Club, Catholic Students Association, Investment Club, Africa Business Club co-president
"We're not naturally inclined to take the 30,000-foot view of the effect of our actions on the world as a whole."
A natural affinity for commerce, coupled with friendships with Howard peers pursuing careers in finance, inspired Michael Braimah to seek an internship with Credit Suisse on Wall Street in the summer of 2006. Just as the first cracks began to appear in the financial industry, Michael joined UBS after graduating in 2007 and stayed for two years. "In an industry that's upside down," he says, "you're forced to draw on inner strengths."
Teaching others, learning about himself
After two years, "moving at ninety miles per hour," Michael slowed down and considered other pathways, taking four months to teach English in Rabat, Morocco, through the Amal Sale Association. "The center taught commercially viable crafts, like sewing and pottery, to help women become self-sustainable," Michael says. "The women saw English as a tool to help improve their marketability."
After Amal Sale, Michael reached out to an HBS contact he met a few years earlier at the Africa Business Conference, joining him at his private-equity firm, Kaizen Venture Partners. There, Michael was part of a small team of analysts investing in small- and medium-sized enterprises in Sub-Saharan Africa. His work there led to his next move toward an MBA.
"We're not naturally inclined to take the 30,000-foot view of the effect of our actions on the world as a whole," says Michael. "I liked HBS' focus on leadership and holistic perspective on the world."
"I've had to relearn the concept of leadership," Michael says, of his experience thus far. "Before, I saw it as being at the front: the leader makes decisions and expects everyone to conform. HBS has exposed me to leadership by advocacy, of ensuring that everyone's voice is heard. Great leaders recognize multiple points of view and acknowledge them in their decisions. This is the thing that jumps out at you in cases, in interactions with your peers and faculty: we're all high-achievers, but HBS ingrains in you a respect for multiple perspectives."
Little gestures are a big deal
"The notion of 'changing the world' is doctrine here," Michael says. "But it doesn't mean you have to do it in a grand manner. I've come to understand that you can make a difference with little gestures, by doing many small things that are significant to those around you."
Despite this respect for small things, Michael's ambitions remain large. For his summer internship, and for his future career, he's exploring capital markets in Africa. "When you look at regions that have managed to significantly raise their average standard of living in a relatively short period of time, you see a high correlation between well-functioning capital markets and this positive movement. I believe Africa is capable of something similar, and I want to play an active role."