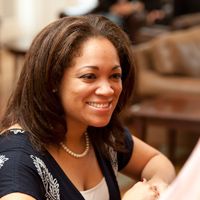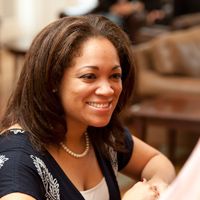 Home Region
Galloway, NJ
Undergrad Education
Yale University, BA Political Science/Government, 2006
Previous Experience
Goldman Sachs
HBS Activities
AASU co-president, Section C Leadership and Values Rep, Finance Club, Social Enterprise Club, Global Business Club, China IXP
"You gain increased confidence from the very first time you open your mouth and ninety people look back at you."
"I've always been a 'save-the-worlder,'" Lauren Booker says about herself with a laugh. She grew up in a family with "a long, sustained history of service and civil-rights activity." Her grandfather, the late Carl Nichols, led the New Jersey chapter of the Black Panther Party in the 1960s and '70s.
At Yale, Lauren exhibited the family traits of social activism and leadership, becoming the head of the Black Student Alliance and co-founding a magazine entitled Sphere, "focused on global citizenship awareness." As an Urban Fellow, Lauren did project work with the New Haven Economic Development Corporation. And in her junior year, she studied abroad in the Dominican Republic, awakening "an interest in development within emerging markets," says Lauren, "specifically regarding collaboration across the private and public sectors to achieve a broader impact on society."
A scholarship from the Jackie Robinson Foundation introduced Lauren to Goldman Sachs, her scholarship sponsor. The relationship turned into an internship opportunity, which in turn became a full-time job where she worked on compliance and regulatory issues for various businesses across the firm for four years. "I loved the way the work supplemented what I learned in the classroom with the fundamentals from the corporate world," Lauren says. "It was a phenomenal training ground for acquiring transferable skills like communications, data analysis, project management, and supervising people."
Transitioning into investing and economic development
While her work at Goldman was satisfying, Lauren "wanted to transition within financial services to investment banking and ultimately into economic development." An MBA would balance her previous experience with "formal training in finance, marketing, strategy, and operations."
HBS became her top choice after a campus visit in which she "felt the magic happen in the classroom — people from all over the world contemplating the most exciting, intriguing, and complex business challenges."
Of her HBS experience, Lauren notes that "to date, we've covered over two-hundred cases across ten different disciplines. For the first five to six weeks, I had butterflies — you have to say something substantive. But you gain increased confidence from the very first time you open your mouth and ninety people look back at you. With every case, you look at problems through the lens of the C-level executive; you get comprehensive insight into what leadership, judgment, and decision-making look like — you're always challenged to push yourself out of your comfort zone."
Living a growth story
Lauren visited Asia for the first time through the January "Growing Pains on the Mainland" China IXP. "We gained direct exposure to the economic growth story," Lauren says. "We explored what's happening in the country, why it's posed as the next economic superpower, and how the political and social landscapes play into the picture. When I returned to HBS, I found that I could incorporate my experience into classroom discussions and provide my sectionmates with a unique perspective on China."
When Lauren returns to Goldman for her summer internship, she will do so within a new capacity: investment banking, an area she'd like to pursue after graduation. "HBS has helped me explore my career options," she says, "with so many opportunities for cultivating my passions and strengths. My long-term vision is to invest in viable and sustainable business models that impact underprivileged communities around the world."