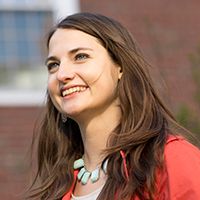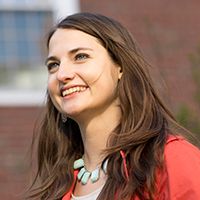 Home Region
Buenos Aires, Argentina
Undergrad Education
University of Buenos Aires, Economics, 2007
Previous Experience
Auction Technologies; Compass Lexecon; Royal Bank of Scotland Group Plc
HBS Activities
co-president of TechMedia Club, founder/organizer of TEDxHBS, Latin American Club, Entrepreneurship Club, Social Enterprise Conference
"I saw a true commitment to make this a great place for people interested in entrepreneurship."
Lu Baigun is the kind of person who acts upon the "what if?" inspirations other people might be content to daydream about. While pursuing her economics degree at the University of Buenos Aires, she thought it would be a great idea if someone integrated all the course information into an interactive online platform for the economics community at the school – so she built one. Later, as an auction theory analyst with clients all over the world, she was struck by the ubiquity of mobile phones in India and how they allowed farmers to find the best markets for their produce or fishermen sell their catch at the best prices.
Curious, she asked her colleagues about the phenomenon and learned about M-PESA in Kenya, a mobile payment system that allows people without bank accounts to make and manage financial transactions through their telephone accounts. "I just thought that was amazing," Lu says. She had thought she would get a PhD in economics, but she instantly changed her plans. "I didn't want to be an academic anymore," she says. "From that point forward, I wanted to be involved in disruptive technologies in emerging markets."
Best place for entrepreneurial ambitions
To make the transition, Lu realized, she needed a different kind of education. "I wanted a broader understanding of how to do business, of how to lead companies," she says. Both Stanford and Harvard appealed to the entrepreneur in her, and both accepted her application. While the choice was difficult, HBS had the edge. "The international network at HBS was appealing to me."
But the bigger issue was entrepreneurship. "A few years ago," admits Lu, "I would have said that HBS was lagging behind in entrepreneurship and technology. Now that's no longer true. I'm really excited about the Harvard i-lab and the new FIELD curriculum. When I visited the campus, I saw a true commitment to make this a great place for people interested in entrepreneurship with a tech focus."
Bringing TEDx to HBS
Just as she had done in Buenos Aires, Lu is taking action to fulfill a sudden inspiration. "While I was interning at Collaborate.com, a startup in Cambridge, I saw all the excitement TEDxBoston was generating – it was attracting people from all industries and walks of life," she says. It occurred to her that TED and HBS could be the perfect match. "HBS is first-class and attracts top speakers, but it's often separated from the rest of Boston. TEDx would combine the amazing drawing power of HBS with the all the interests and enthusiasm the people of Boston have – it's about opening HBS to the whole community."
While TEDxHBS is still in the planning stages (tentatively scheduled for the fall of 2013), Lu has the complete support of HBS staff, faculty and students. "HBS is super-open and receptive to making it happen," Lu says.