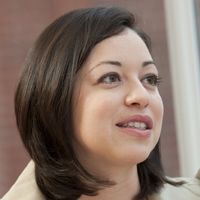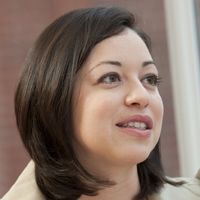 Home Region
Boise, ID
Undergrad Education
Rice University, BME Mechanical Engineering, 2007
Previous Experience
Hospital for Special Surgery; UBS Investment Bank; Baker Hughes Oil Tools
HBS Activities
LASO co-president, Democrats Club CFO, Health Care Club, Management Consulting Club, Prospective Students' Day planning committee co-chair
"In cases, you get to practice public speaking and persuading others every day."
For Laura Arjona, engineering interests simply "tied into my personality and family background." When Laura was just two years old, her parents fled from Panama and its "strongman," Manuel Noriega, to Texas and then Idaho. Her father earned master's degrees in mechanical and electrical engineering from the University of Florida.
Laura followed suit, obtaining a scholarship to Rice University, where she studied mechanical engineering. "I was always analytical and good at math," she says. "Engineering was not only a good fit, but a good way to train my mind." As part of her scholarship, Laura fulfilled a summer internship with Baker Hughes Oil Tools, working on material design projects to improve drill attachments that screened out sand.
"While I found the work interesting, it was slow. I wanted to do something where I could see the real-time impact of my contribution." Encouraged by friends working in the financial sector, Laura obtained a position at UBS Investment Banking after graduation, staying for two years in the energy group. "When I started, news was just starting to emerge about the financial crisis," Laura says. "It was a rich learning environment; everyone was talking about the mortgage crisis. Was it isolated or would it affect other areas of the economy? I wanted more of these kinds of discussions, more of the macro-level analysis."
Intimidating but interesting
Seeking "more," Laura looked at various MBA programs online. "A schoolmate, Matt Oppenheimer -- his HBS profile just jumped out at me," she says. "I reached out to him and another HBS contact; both of them raved about the case method."
Laura got a taste of it herself on Prospective Students Day (PSD). Jointly sponsored by HBS MBA Admissions, the African-American Student Union (AASU), the Latino Student Organization (LASO), and the Harvard University Native American Program (HUNAP), PSD is an opportunity for members of these communities to experience Harvard Business School. "It was really intimidating; everyone was so articulate and smart. But it was also so interesting. At Rice, I was used to just sitting in lectures and not really getting the material until I worked on the problems at night. But in cases, you get to practice public speaking and persuading others every day."
"Being in classes for nearly two years now," Laura says, "I'm amazed by how many different views and perspectives people have. The thing is, even when people come from different backgrounds and have completely different views on politics, religion — anything — you can still find common ground. The case method helps me connect to people."
Moving into new areas
Last summer, Laura broke fresh ground by pursuing her interests in something new to her: health care. "It's an industry that touches everyone," she says. "This is an area that needs business-minded leaders." At the Hospital for Special Surgery in New York City, Laura worked with the CEO and the management team on a number of strategic and operations projects, including processes for running the operating rooms more efficiently. "I realized I wasn't ready yet to work in nonprofit," says Laura. "The people who had the largest impact at my summer internship had many more years of experience in the private sector."
To get that kind of experience, after completing her MBA, Laura will work as a senior consultant with Deloitte, in San Francisco, . "I want to consult for a few years," she says, "then take a management-operations role in health care or another industry I feel passionate about."