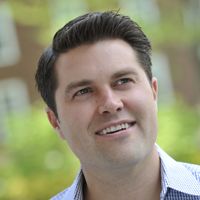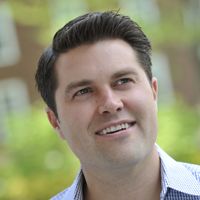 Home Region
Salt Lake City, UT
Undergrad Education
University of Utah, BS Finance, 2005
Previous Experience
PoolTables.com, vSpring Capital, White House/Executive Office of the President of the US
HBS Activities
Entrepreneurship Club co-president, Section F senator, Latter-day Saints Student Association
"HBS provides a confrontation with issues, a challenge to your way of thinking whatever your background."
In the third grade, Kimball Thomas sold chocolate-chip cookies door-to-door to save money for the bicycle he wanted. In college, his logistical and travel-arrangement skills were put to a higher test: as a White House intern for the Office of Scheduling and Advance. "It was the Clinton administration, and I was the only intern in the West Wing," Kimball says. "Practically every advisor was at my door, vying for the President's time. I prepared his daily calendar and conducted preliminary trip research. All this – and it was the first time I had worked in a professional environment!"
Later in his undergraduate career, Kimball partnered with his cousin, Davis Smith, to seize the best business opportunity they could find. "We searched the news, talked to friends – looked at just about anything to see where could find something interesting," Kimball says. eBay provided the key. There, the cousins noticed a brisk market for discounted pool tables made in China.
"We flew to China and talked to manufacturers," says Kimball. "Right then and there, we committed to the minimum order: fifty tables. It wasn't scary then, but looking back, it is now. When the container arrived, we didn't have enough money to pay for the entire order. We took what we could and bought the rest as we sold tables on eBay." All the while, Kimball was still in school and pursuing an internship with vSpring Capital in the Salt Lake City area. "I had to duck into the lobby to take inquiries on my cell phone," he says. The business, PoolTables.com, grew fast, expanding into an ongoing Web enterprise with five retail locations, employing a total of twenty people.
Moving to a larger stage
PoolTables.com remains a going concern. "But," says Kimball, "I wanted to move to a larger stage. Maybe expand this business or start a different one. To do that, I needed to learn more about business, increase the number of people I can connect with, and establish the credibility I'll need to raise more money."
Three years ago, Kimball visited an HBS class and was impressed with what he saw. "The case involved Argentina's repudiation of its national debt. The professor asked the class to consider the options. Suddenly, someone from Argentina spoke up about what life was really like when currency was devalued. Then someone from Russia talked about a similar experience with the ruble. I could see right away that this is something special."
Kimball's initial impressions have been confirmed by his experiences at the school. "HBS provides a confrontation with issues, a challenge to your way of thinking whatever your background," he says. "In Leadership and Corporate Accountability (LCA), we deal with tough issues about race and sexual orientation, and hear from people from all over the world. In Strategy, we're always pushed. How do we make our businesses more profitable? But also, how do we make them more fulfilling, for us and for our employees?"
Multiple partnerships
In the summer, Kimball will reunite with his cousin Davis in the Silicon Valley where they will "crank on new business ideas." Kimball will test the best of them in the Business Plan Competition next year.
Meanwhile, Kimball never studies alone; he's joined at HBS by his wife, Wendy, and baby, Jack. "Crimson Kids has been a terrific way for HBS parents to get together and have fun with our families. And Wendy loves the Partners Club – she's one of the two partner reps for my section."