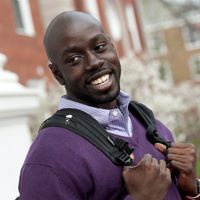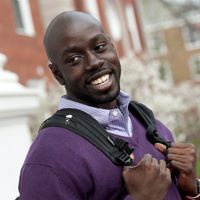 Home Region
Massachusetts
Undergrad Education
Harvard College, AB Economics, 2006
Previous Experience
Harlem Children's Zone (Morgan Stanley Ambassador); Morgan Stanley
"The problems of the world aren't siloed into separate buckets."
By his own description, Kwame grew up within challenging circumstances: "a single-parent household, the child of immigrants from Ghana trying to find their way in America." But he also found drive and purpose at an early age. In high school, he sold T-shirts and T-shirt designs. By his senior year at Harvard, he had formed, with two classmates, a social network called "Triumph," which sponsored social events for young professionals and doubled as a fundraising platform for nonprofit causes.
"I've always been passionate about the intersection of private and public sectors," says Kwame. "I got lucky through the generosity of others and gained access to privilege. And with that, a deep responsibility to serve others."
In Kwame's third year at Morgan Stanley, he was the one analyst selected for its Ambassador program, in which he served as a direct assistant to Geoffrey Canada, CEO of Harlem Children's Zone (HCF). "They take a holistic approach to services, from cradle to college," Kwame says. "With the Zone, I did a wide range of things from consulting on education policy reform with Mayor Bloomberg to coaching basketball for the kids."
Making progress through greater self-awareness
Through his experience at HCZ, Kwame realized he needed "strong, private-sector skills I could bring to the nonprofit world — skills in business strategy, budget maintenance, fundraising, and communications. The truth is, the problems of the world aren't siloed into separate buckets. To be effective, I need to dig deeper into cross-sector leadership." To be "conversant in both worlds," public and private, Kwame applied for and was accepted into the joint MBA/MPP program offered by HBS and Harvard Kennedy School.
"The thing that has most surprised me about HBS," Kwame says, "is that it's less about career advancement than it is about personal growth. The LEAD class, for example, is designed to make you think about leadership holistically; not about what leadership means in an organizational context, but what it means, period. Our professor, Tom DeLong, always pushes us to think about what type of leaders we'd like to become, about the legacies we want to leave behind, the impact we want to have. Most of that stems from learning about yourself."
As part of his self-education, Kwame made an unofficial trip to Ghana during his January Term. "It was a personal journey," he says. "I'd seen my father only once since 2000. We were close when I was young, and there was a lot to catch up on. I met many in my extended family: aunts, uncles, cousins. The experience raised a whole host of emotions: joy, sadness, guilt. Seeing them struggle in difficult circumstances reinforced my desire to open opportunities for those less fortunate than myself."
Open plans
Last summer, Kwame fulfilled his HKS internship as an Education Pioneer Fellow with the NewSchools Venture Fund, where he helped develop a for-profit investment strategy for an upcoming fund, plus due diligence on potential portfolio investments.
Kwame is still considering options for his HBS internship. "I'm building more of a network than a career interview schedule," he says. "Will I go into a high-performance social enterprise? A traditional nonprofit? I don't know yet, but I do know that whatever I choose, I'll have my hands in something that involves both business creativity and civic leadership."