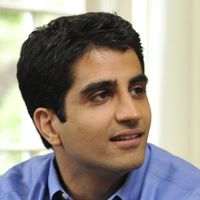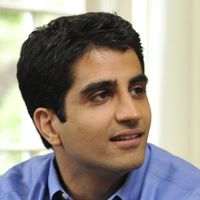 Home Region
Woodinville, WA
Undergrad Education
MIT, BS Political Science/Government, 2003
Previous Experience
Microsoft
HBS Activities
Entrepreneurship Club, TechMedia Club, Health Care Club
"A place where you can dream big, and build the toolsets and networks you need to take action."
Kevin Nazemi chose Microsoft after graduation from MIT for the chance to turn a small market presence into something much bigger. "When I arrived, our Customer Relationship Management (CRM) product had almost no traction in the U.S.," Kevin says. "By the time I left, I was a key team member on a product that had reached hundreds of millions in revenues. My trajectory at Microsoft had accelerated even faster than I had hoped for. That was when I assessed my progress: what did I have to do to get the skills and networks I needed for the future?"
For Kevin, the joint degree program at HBS and the Harvard Kennedy School "is the best of both worlds. I'm interested in the intersection of business, public policy, and technology, especially in health care. I see HBS as a place where you can dream big, and build the tool sets and networks you need to take action."
Alive in the classroom
"It's one thing to read about diversity at HBS on paper," Kevin says. "It's another to see it come alive in the classroom. When classmates share opinions based on experiences you haven't been exposed to before, it's illuminating. The class' combined perspectives evolve your view.
"I previously thought leadership was more about being a facilitator driving implementation. Now I see a leader as someone who manages an ongoing give-and -take, who builds trust and moves people toward a common goal. Real leadership doesn't just maximize the resources an organization already has, but identifies and creates new opportunities for the organization to pursue."
"I suspect a lot of people doubt that the case method is an effective way of learning practical skills," says Kevin. "It's hard to imagine how a case-based finance class would progress, but it does. You absolutely walk away with tangible skills from all your classes."
Healthy ambitions
Pursuing the joint degree opens Kevin to "an interplay of business and government that's essential, especially in health care, where private/public partnership is a necessity. The Kennedy School enables an understanding of how to think in terms of the policy-making process. HBS offers a host of resources that give you feedback on what's working in industry and what is not, on what challenges you might face. You can also find leads to other people who can help you in niches you want to explore."
For his summer internship, Kevin is working for a health care IT startup in Boston. Once he completes his joint degree, he looks forward to "being a builder, someone with an operations role who can act as an entrepreneur."