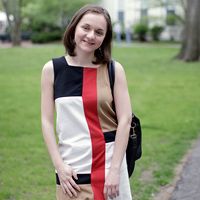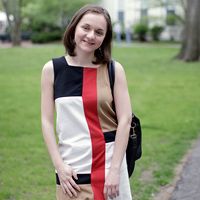 Home Region
Owing Mills, MD
Undergrad Education
Swarthmore College, Political science/gov't, 2006
Previous Experience
Mayor Bloomberg's Office, NYC; DC Dept of Human Services; Executive Office of Mayor Adrian Fenty; McKinsey
HBS Activities
Arts Society VP, Design Club, Social Enterprise Club
"I'm trying to tie together artistic creativity with the ability to creatively solve complex problems."
When Inessa Lurye arrived at Swarthmore, she resolutely "did not want to have anything to do with the environment" she had recently left the inner-city Baltimore-area neighborhood she and her parents emigrated to after fleeing Belarus in 1992. But the combined call of compassion and intellectual curiosity drew her into urban studies, which in turn drew her into professional work on urban issues.
At McKinsey, Inessa consulted with the Harlem Children's Zone, helping them expand their services from 6,000 to 10,000 children. In 2008, she worked in the Executive Office of Washington, D.C. Mayor Adrian Fenty to transform the city's homeless program. "We identified the people with the highest likelihood of dying on the streets, and instead of warehousing them in homelessness, provided them with permanent housing and case management," says Inessa. "In the first year, we reduced street homelessness by fifteen percent; in two years, we housed 1,000 individuals and 250 families."
Creative approaches to intractable challenges
At Harvard, Inessa is pursuing the joint MBA/MPP because she wants to "learn how to lead more effectively in complicated systems facing intractable problems." She intends to blend her experience as a painter – Inessa received a degree in studio art from Swarthmore – with her ambitions for social progress. "I'm trying to tie together artistic creativity with the ability to creatively solve complex problems," says Inessa.
As an example, Inessa cites her independent-study project with Harvard Art Museums. "We're looking at ways we can use gallery space for something more than passive observation," she says. "Our project focused on after-hours workshops designed around the needs of specific groups; for instance, using the museum setting and artwork to help medical professionals listen and observe more deeply." This approach reflects "human-centered design" and aims to direct design away from "one size fits all" product models and toward "creating experiences around the specific needs of customers."
This year, the HBS Design Club became an official organization with about fifty to sixty members. Inessa and her Design Club colleagues are developing workshops and inviting speakers who address "more creative ways of approaching familiar problems, generating ideas, prototyping concepts."
Eventually, Inessa "would love to use design processes for solving urban issues such as housing, income equality, and sustainability," after acquiring private-sector experience with an organization that "has an innovation arm working on alternative ways to create and deliver products, experiences, and services."