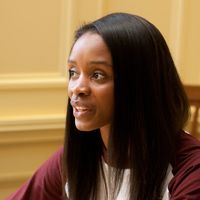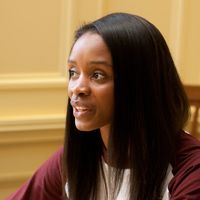 Home Region
Columbia, MD
Undergrad Education
Cornell University, BA History, 2004
Previous Experience
Oprah Winfrey Leadership Academy for Girls; Clinton HIV/AIDS Initiative; Goldman Sachs
HBS Activities
HBS Student Association co-president
"Leadership is teaching: you can't be a great leader if you can't share what you know."
For many ambitious college graduates, an offer from Goldman Sachs would be a dream come true. But for Funa Maduka, who felt drawn to "alleviating life's inequalities," the opportunity also represented "many sleepless nights. Should I wait for fellowship offers? Should I pursue scholarship offers abroad? Was I selling out my dreams? Or myself?"
Finally, after taking the advice of a mentor who told her "to just do the two years and learn," Funa accepted the offer. "In hindsight," she says, "it was the best decision I could've made. The training program, the technical skills you pick up, the daily high-pressure regimen of getting out on the trading floor by five in the morning — you absorb all these things when your bottom line is measured. Goldman prepared me very well for the nonprofit experience."
After two years with Goldman, the rigors paid off: recruited as an assistant in the Clinton Foundation's HIV/AIDS Caribbean program, Funa found herself responsible for advising ministries on nine islands when her director fell ill. Meanwhile, a chance encounter at a Hillary Clinton fundraiser with Amy Gross, the editor of Oprah Magazine, led to a meeting with Gayle King and another exceptional offer. In September 2006, Funa became coordinator of extracurricular and student life at the Oprah Winfrey Leadership Academy for Girls in Henley on Klip, South Africa, rapidly rising to become Dean of Students for the boarding program.
Importance of educating leaders
"The biggest weakness I saw in nonprofits," Funa says, "was in management education. I saw many managers with good ideas, but not the skills for executing them." Attracted to HBS' leadership development mission, she applied to the school. "I didn't want to be loaded down with new policy ideas, but wanted to learn how to implement them, how to incent others to follow."
"The section experience is management in a microcosm," says Funa. "You're in a classroom with people from diverse backgrounds, all intelligent and driven, where you learn to craft arguments succinctly — that's the development point for me. Leadership is teaching: you can't be a great leader if you can't share what you know. Here, we value listening, we favor the act of inquiry over advocacy. Probing deeper, understanding where the other person is coming from — it changes your frame of mind, makes you more persuasive."
Homeward bound
Born in Nigeria, Funa grew up with her parents in Maryland where they emigrated when she was four. This summer, she has a chance to return. "I'm going to McKinsey in Lagos," Funa says. "They're doing really diverse work that mingles private initiatives with the public sector. I've never really experienced Nigeria on a day-to-day basis; this gives me a chance to understand the experience."
Looking ahead, Funa would like another for-profit opportunity similar to what she had at Goldman Sachs "where I can drill down into strategy or general management." In the long run, "I'm definitely going into the public sector, either nonprofit or government."