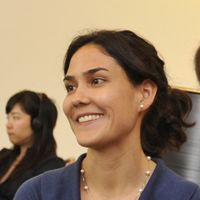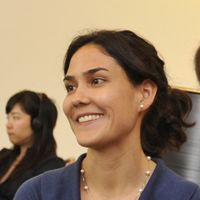 Home Region
Boston, MA
Undergrad Education
Principia College, BA Business Administration and World Perspectives, 2002
Previous Experience
Egleston Square Main Street, Inc., U.S. Peace Corps, Edward Jones
HBS Activities
Social Enterprise Club, Latino Student Organization (LASO), Volunteer Consulting Organization (VCO)
"If you're going to be a bridge between the public and the private sectors, you need to speak both languages."
As a dual United States and Mexican citizen, Clarissa Quintanilla made a long road trip with her family each Christmas from St. Louis, where she and her twin brother, Pablo, attended high school, to her grandmother's home in Cocoyoc. Across the arid landscape of northern Mexico, women and children with outstretched arms lined the highway beckoning passing cars to stop and buy wildlife they had captured. The hopelessness of their situation helped Clarissa develop a conviction "to be involved in the process of furthering social and economic justice."
"To create better economic opportunities for people like the women lining the highway will require joint action from the public and private sectors," says Clarissa. Not surprisingly, Clarissa's college and postgraduate experiences reflect her dual interests. She studied business, but also started the Latino Student Organization on campus. After graduation, she worked at Edward Jones "because I was interested in its community-based distribution system." After two years with the company (working in its Rotational Development Program and in marketing), she married her fiance, Ben Clark, and together, they joined the Peace Corps.
Open experiments in styles
In the Peace Corps, Clarissa and Ben were assigned to sustainable agriculture and artisan cooperative projects in Kuna Yala, an indigenous region in Panama. By the second year, Clarissa became a regional leader for Kuna Yala. After finishing the Peace Corps, Ben and Clarissa moved to Boston, where Ben attended the Harvard Kennedy School. Clarissa became executive director of Egleston Square Main Street, a nonprofit community-revitalization program in Roxbury/Jamaica Plain.
Like her husband and twin brother, Clarissa was attracted to HKS, but wanted to reach into business as well. "No single sector can resolve poverty at the base of the pyramid," Clarissa says. "There has to be a joint solution. And if you're going to be a bridge between the public and the private sectors, you need to speak both languages." Motivated to bridge the gap, Clarissa applied for the joint MBA/MPP degree through HBS and HKS.
"The Kennedy School makes so many resources available beyond the classroom," says Clarissa. "We get amazing speakers all the time." In addition, Clarissa is part of a Change Agents Now (CAN) group with five other students, which "gives us a space to where we can imagine ourselves going beyond our usual career roles."
At first, Clarissa felt apprehensive of the HBS section structure. "But it's become one of the most rewarding aspects of the experience. It's not just the camaraderie and friendships. The classroom becomes an open experiment – a soup of people trying out different communication and leadership styles, all learning how to become more effective."
Market-based approaches
In her first joint-degree internship, Clarissa worked on two projects under the Boston Urban Mechanics Program in the Mayor's office: one that streamlined the permitting process for small businesses, and another to help develop the Newmarket district into the first green industrial park in an urban core.
This summer, Clarissa will be working with I-Dev International."It takes a market-based approach to development by linking small farmers with multinational supply chains for example," she says. After graduation, Clarissa would like to facilitate partnerships to solve the needs at the base of the pyramid.