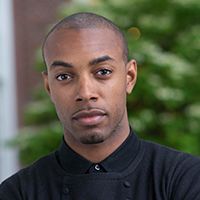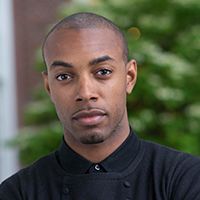 Home Region
Dallas, TX
Undergrad Education
Yale University, Political Science/Government, 2009
Previous Experience
Reboot; Neiman Marcus Group; Center for American Progress
HBS Activities
Student Senate (Clubs Committee; Budgets & Oversight Committee), Texas Club, Retail & Luxury Goods Club, Entertainment & Media Club, Social Enterprise Club, Design Club
"Best possible two years to dream big."
Casey Gerald prefers not to make a big deal of his football-playing days as a cornerback. "We won a championship, we lost a championship – and I broke a few bones," he says. But football became a bridge to Yale; an unexpected opportunity for a young man from the Oak Cliff neighborhood of Dallas. "Truth is, there weren't a lot of kids around me going to an Ivy League school."
Initially "convinced" he would become a lawyer, a summer internship within a law firm "quickly disabused me of the idea." Investment banking came next, accompanied by figurative broken bones: as an intern at Lehman Brothers in the summers of 2007 and 2008, he got an inside view of the firm's dramatic collapse. "It's the story of my generation," Casey says. "No one thought an institution like that would come tumbling down. But we all saw how fragile and vulnerable any institution can be."
Exploring the "secret garden"
While at Yale, Casey attended a law school event at which the speaker made an observation that made a lasting impact upon him. "He said law was the instrument of social change in the twentieth century," Casey explains, "but if you want to change the world in the twenty-first century, get an MBA." Casey applied, and was accepted into, HBS' deferred admission 2+2 program, using the two years of work experience to explore options in both social policy and business: the former, through staffing assignments at the Center for American Progress, the Cities of Service Coalition, and Reboot, "a design-based approach to innovation in the public sector," and the latter through Neiman Marcus, where he worked on the president's five-year strategic plan.
Now in his first year at HBS itself, Casey eagerly describes three key "takeaways" from his MBA experience thus far. "HBS is like a secret garden," he says. "If you just come in passively, it's not transformational. But if you dig into the experience, poke around the trees a little, you'll find extraordinary experiences just waiting to be explored." As examples, Casey cited his ability to make media connections by poring through the resume book of second-year EC colleagues. When he wanted to know more about consumer goods in Asia, he found an expert on retailing in Japan through the Retail & Luxury Goods Club.
"Second," says Casey, "HBS is uniquely suited to prepare me for the kind of leadership I want to be involved in. It puts you through three-hundred business situations with imperfect information and severe time constraints. You have to develop a framework for a vision, a way to articulate that vision, and the humility to accept ninety different opinions challenging it. HBS prepares you for a world of ambiguity."
Ten weeks, four MBA students, and one RV
Finally, Casey believes, HBS provides the "best possible two years to dream big." True to his word, Casey is collaborating with three other first-year HBS MBA candidates to create MBAs Across America, an effort to support entrepreneurs on the ground in American cities and towns not (yet) known for entrepreneurship. Throughout the summer of 2013, the MBAs Across America team will travel across country in an RV, making week-long stops to record and promote the stories of local entrepreneurs, to help with specific challenges (such as funding and marketing), and to build enduring communities of support for entrepreneurial efforts. "We want to prove," Casey says, "that entrepreneurship can succeed anywhere – you don't have to be in New York or Silicon Valley to do it."
Interviewed Spring 2013. 
Update: Casey Gerald was elected as the Student Speaker for Class Day 2014. His stirring speech garnered national media attention. According to Fast Company Magazine in a profile on Casey, "Everyone should watch this speech." See it here.