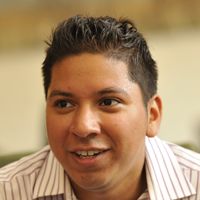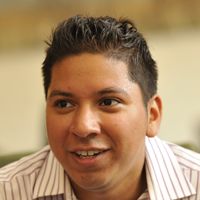 Home Region
New York, NY
Undergrad Education
Bernard Baruch College, BBA Finance, 2007
Previous Experience
HSBC Bank USA, N.A.
HBS Activities
Prospective Students Day co-chair, Latino Student Organization (LASO) co-president, Management Consultants Club CFO, Republican Club CFO
"In a section of 90 people, you're exposed to alternatives, many of which are better than your original idea."
Carlos Coto turned a bank-teller position into a life-changing opportunity. To work his way through college, he found employment at HSBC, a niche bank that serves high net-worth clientele. In his second year at the bank, Coto became "Teller of the Year" – then things became really interesting.
"I moved into a full-time management rotation program and noticed something intriguing," Carlos says. "As a teller, you get to know clients personally; you're aware of major life events, like when they're buying a house or changing jobs or having a baby. What if we stopped seeing tellers as a cost, and instead, trained them to take advantage of sales opportunities?" Carlos made the pitch then rolled out a plan. In one year, floor sales increased by 120%. Carlos received HSBC's highest honor, the "President's Award," and was promoted to Assistant VP of the bank's second-largest branch in the Queens district.
Fulfilling a dream
Although Carlos continued to prosper at HSBC, "I realized I could have a greater impact by helping businesses improve. That sounded like management consulting, which would require an MBA." Why HBS? "Truth is, it's always been a dream of mine to attend an Ivy League school. When I was applying for college, it wasn't financially possible. Now it was."
Carlos came to HBS with his wife, Julia, whom he married in June 2008. They live off-campus in Harvard housing at Peabody Terrace. "I was accepted in April; by June, Julia had an offer from iProspect in Boston, which made the transition easy," Carlos says. Julia now works as a controller at iProspect, and is co-president of the Partners Club at HBS.
HBS has challenged Carlos' way of thinking about business problems. "In business, you're always thinking of ideas you want to perfect. But what I hadn't considered before were the alternatives to those ideas. In a section of 90 people, you're exposed to alternatives, many of which are better than your original idea."
Leveraging the growing Hispanic market
For a week- and a-half, Carlos joined his fifty-odd HBS colleagues on the India IXP, where the focus was on "the technology and infrastructure necessary to sustain growth in an emerging market." That theme resonates with Carlos' own ambitions. "Initially," he says, "I'd like to go into management consulting for five to ten years. Then I want to start my own practice supporting the Hispanic business owner. It's a niche market that hasn't reached critical mass yet. But with $1 trillion in purchasing power and a population expected to reach one-third of the U.S.'s by 2050, the numbers are in favor of Hispanic businesses."