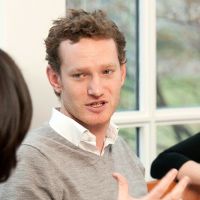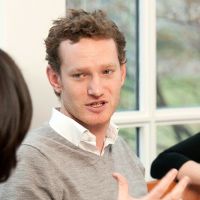 Home Region
Somerville, MA
Undergrad Education
Harvard College, AB History, 2004
Previous Experience
Roxbury Preparatory Charter School
HBS Activities
Social Enterprise Club, Rwanda IXP
"The section is the safest place to take a risk."
By his junior year of college, Ben Wells knew he was destined to teach. Immediately after graduation, he put his ambitions to the test at Roxbury Preparatory Charter School, "a public school run like a private school," Ben explains. "It's brings a rigorous college-prep education to low-income students."
After several years at the school, where Ben served as eighth-grade teacher, English Department chair, and director of a literacy program, he examined the bigger picture. "A lot of people who teach at the school have graduate degrees in education," he says. "But what education really needs now is a sense of how to replicate good schools. We need a fresh perspective on management; on making sure resources are developed and improved. What makes the best schools more effective? How do we repeat what works? And how do we do that in underserved neighborhoods? For me, the personal question was, what kind of degree could I get that would make the biggest difference in education?"
Surrounded by different perspectives
"What makes business school different from education schools," Ben believes, "is that you're not surrounded by one kind of person." This is especially true at HBS. "I want to get diverse perspectives on how organizations run and improve. In a section, ninety people bring a range of experiences you wouldn't get in a lecture — or at any other business school. I'm currently sitting between a woman who served in the Army for four years and a guy who was an auto-ndustry consultant at BCG for the last two years. The entire section is like that."
"At HBS, I'm doing things I've never done before: things in finance, operations, analytics. Often, I'm not sure I know what I'm doing. But my sectionmates are so helpful and enthusiastic about sharing their knowledge. There's no competition for grades — everyone helps each other figure out what they don't know. In class, the section is the safest place to take a risk."
Ben regards the case study method through the eyes of an education professional. "The first thing that jumps out at me," he says, "is how difficult it is for professors to do. They're masters at soliciting opinions, then circling back forty-five minutes later to ask for elaborations. I'm amazed at their ability to maintain energy and encourage participation. It's made me think about how we teach kids in middle and high schools, where they get talked to rather than talked with. It makes me wonder if we should reconsider our learning model."
Confidence in the unknown
The Rwanda IXP, says Ben, "crystallized a lot of what I had learned at HBS." He was part of a team tackling a youth job-training program centered on silk production. "It was about something I had no previous understanding of whatsoever," Ben says. "But it showed me that I could do research, approach the problem in a systematic way, and through teamwork, arrive at a way to figure it out."
Ben will faces new challenges in his internship with The Parthenon Group, where he will consult on a mix of projects that will include education "and more traditional industries that will deepen my understanding of business." Not surprisingly, Ben's long-term goal remains "managing a school or a teacher-training program, particularly in an inner-city district."