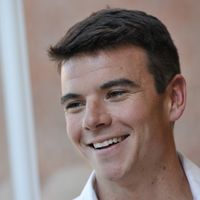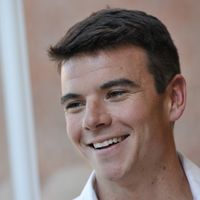 Home Region
Washington, D.C.
Undergrad Education
University of Virginia, BS Finance and American Politics, 2002
Previous Experience
The Carlyle Group, US Army, Deloitte and Touche
HBS Activities
Student Association co-president, Section C president, Ideas@Work CFO
"You should feel that your section is your home."
Although his grandfather was a "full-bird" Marine Corps Colonel who had served in World War II, Korea, and Vietnam, Brett Gibson had not considered the military as a career option and did not participate in ROTC while in college. But the events of September 11, 2001, changed his perspective. "My passion has always been for service," Brett says. "With 9/11, I realized how important it was to direct that passion to serve in the military."
With no appetite for half-measures, Brett aimed for the Army Rangers. After a year of training "all over the country, building skills in leadership, decision-making, endurance and physical strength, and military strategy," Brett went to Fort Benning for the fulfillment of his Ranger training. His grandfather, Colonel Norman Chase, pinned him as a lieutenant at his graduation. "I was very proud to be connected to his legacy," Brett says. "That was cemented even further when I returned from my tours in Iraq and Afghanistan, and my grandfather was once again on the parade field, waiting for me."
Leadership through inclusion
Brett moved from the military to a real-estate analysis position with the Carlyle Group. While he appreciated the opportunity to apply values and skills he had developed in the Army – "integrity, motivating people, delegating responsibilities to a team" – he felt a need to go further. "I'm making a transition from what I learned in the military to what I need to learn for success in the private and public sectors." He chose HBS for the same reason he chose the Rangers: "I want to be part of the best."
With an ambition to start his own business, HBS appeals to Brett on a number of levels. "The school gives you a broad set of skills. And I like the large class size – it makes for a larger network. I also value the range of backgrounds. As we're forced to make decisions in our case discussions, the diversity of our classes proves extremely helpful and enlightening."
"I've come to respect the importance of inclusion," says Brett. "As section president, I want to build consensus on events and enthusiasm for HBS as a whole. You should feel that your section is your home. We're like family. When one of our sectionmates was in the hospital, six of us went out to visit him. In times of difficulty, we rally around the people who are down; in good times, we celebrate together."
Private and public ambitions
In 2009, Brett served as a political strategist for Bob McDonnell's successful gubernatorial campaign in Virginia. Ultimately, Brett would "like to run for elected office." In the more immediate future, "I'd like to start a business focused on national security and defense issues, something in the D.C. area. But the big picture remains service. I want to be a good husband and father, and I want to serve my country well."