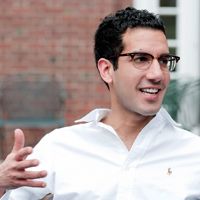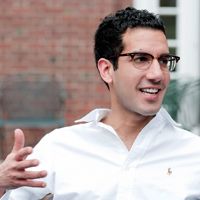 Home Region
Calgary, Canada
Undergrad Education
Queen's University, BA and BSc Chemical Engineering/Economics, 2006
Previous Experience
Teachers' Private Capital (TPC); CIBC World Markets, Inc.; Telecom Development Company Afghanistan Ltd.
HBS Activities
Venture Capital & Private Equity Club; Social Enterprise Club; Canadian Club; India Microfinance IXP; HBS/HKS China Trek
"You have peers who have worked in emerging economies and can provide invaluable context on what it's really like."
Through his own family history, Ameel Somani has witnessed the complete entrepreneurial cycle from ambition to success, from loss to renewal. "My grandfather moved to East Africa when he was twelve and built Tanzania's largest chain of hunting stores from nothing," says Ameel. In the 1970s, government nationalization took it all, leaving the family with "nothing." But Ameel's father responded with entrepreneurship in Canada, creating a chain of optical/eye glass shops. "I've always been inspired by my father and grandfather," Ameel says. "I knew I wanted a career in business."
After graduating from college, Ameel pursued investment banking. "It was a good fit, because it allowed me to think about many different businesses," he says. As an analyst at CIBC, "I learned to think strategically about business combinations and the value that can be created."
After two years at CIBC, Ameel became an associate at Teachers' Private Capital, where he made principal investments in businesses, most notably, Simmons Bedding Company and Munchkin, an infant-products company. "Not only did I have to think about valuation and capital structures," he says, "I had to consider competitive position and how we'd grow going forward."
Combining passions
Despite his satisfaction with investment banking, one important area remained unfulfilled: helping others. "I grew up in a family where giving back is paramount," says Ameel. In the 1990s, for example, his mother helped Central Asians displaced by war find homes in Western Canada.
"I saw business school as a chance to take my passion for investing and combine it with a passion for international development," Ameel says. "While working at TPC, I also saw that I didn't have a full understanding of functional areas, such as operations and marketing."
HBS stood out for a number of reasons. "I felt the case method was a fascinating way to learn. You're in a classroom with ninety individuals and ninety different perspectives – and you use all of them to shape your own." Those individuals stand out for the breadth of their experiences. "You have peers who have worked in emerging economies and can provide invaluable context on what it's really like." In addition, Ameel points to the Social Enterprise Club and the Social Enterprise Initiative as examples of the "resources and infrastructure" that can help him find and follow his development path.
Leveraging life and classroom lessons
"HBS is a chance to reflect on what makes you happy and what you really want," Ameel adds. "When I was working long hours, I didn't have time think about what I wanted. Interacting with professors and classmates gives me insight that helps me move forward."
As part of his forward momentum, Ameel is engaging in a two-part summer internship: He'll strengthen his "investing acumen" at Searchlight Capital, a startup private-equity firm in New York. Then he'll work with the Aga Khan Development Network on microfinance products in Asia and Africa. "I'll leverage both my past work and the lessons I've learned at HBS," Ameel says, "while getting further exposure to the developing world and the types of investment products that have the greatest impact on the poor."
To continue his education, Ameel plans on working in private equity after graduation "ideally for a globally focused fund. Eventually, I'd like to raise a social-investment fund, something similar to traditional venture capital and private equity, but invested in social enterprises in the developing world."