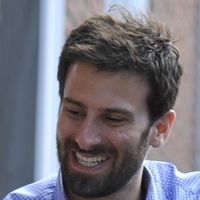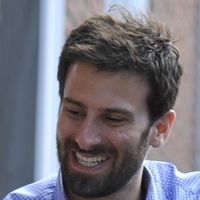 Home Region
Greensboro, NC
Undergrad Education
Duke University, BA Public Policy/History, 2003
Previous Experience
Atrium Holding Company, Lehman Brothers, Intralinks
HBS Activities
Entrepreneurship Club, Special Needs Caucus at HKS
"Conflicts won't get solved if the parties don't know one another."
Ari Medoff's business career began in films, while he was an undergraduate at Duke. "I was CFlix.com's first employee," he says. Founded by a Duke student several years ahead of Ari, CFlix was a video media enterprise that served three-dozen schools before closing shop in 2006. Upon graduation, Ari worked at Lehman Brothers in a series of roles that ranged from selling a telecom software business to closing transactions in the firm's LBO unit. Seeking something "more entrepreneurial," he moved to Atrium Holding Company, where he served as the right-hand man to the business's founder, helping him manage transactions and operations for more than forty hotels in twenty-three states.
Pursuing distinct careers
"Many people come to the HBS/HKS joint degree program to find the intersection among business, government, and nonprofit efforts," says Ari. "But I'm one of those who want to have distinct careers in different sectors. HBS helps me round out my skills as an entrepreneur and future small-business owner." The Harvard Kennedy School extends Ari's undergraduate studies "around public policy work. I'd like to apply the latest, academic social-science theory to real-world economic problems."
Youth mentorship is the major theme of Ari's policy interests. "I am a Big Brother in two programs," Ari says. "One is DukePals, a mentoring program for the children of Duke employees, and the other is the New York Governor's Mentoring Program." But an interest in "entrepreneurial approaches to youth development and education" has led to an in-depth engagement with Seeds of Peace, a program that brings teenage leaders from conflict-torn regions to a summer camp in Maine. "Conflicts won't get solved if the parties don't know one another," says Ari. "Seeds of Peace is about the power of bringing people together at a formative age, when they're fourteen or fifteen." Seizing the initiative, Ari formed a Junior Board of Directors, comprised of participants ages twenty-five through forty, to "spread awareness, mentor Seeds alumni, and raise money." The group successfully raises several-hundred-thousand dollars a year, helping Seeds of Peace expand its impact in the Middle East to South Asian youth in Afghanistan, Pakistan, and India.
Dual strengths
"Many of us in the joint degree program cannot imagine experiencing just one of the schools," Ari says. "At HBS, peer-to-peer learning is paramount – the focus is on dynamic class discussions. At HKS, I'm impressed by the sheer number of fascinating people pursuing interesting projects." The depth of the joint degree students' commitment was demonstrated last January when nine joint degrees students self-organized a trip to Ethiopia, where they met with business and NGO leaders, and helped A Glimmer of Help conduct interviews to build a baseline against which future development projects can be measured. "Half the joint degree students participated," Ari says. "It demonstrates the self-motivation and teamwork the program engenders."
In his own future, Ari sees parallel paths in the pursuit of public service. "First, I want to learn how to grow a small business domestically, and possibly one day in the developing world," he says. As a step on the way, Ari has interned with the Acumen Fund, a social venture-capital firm that has raised more than $80 million to invest in critical needs, such as water, agriculture, energy, health care, and microfinance. After graduation, Ari will look to purchase and run a small business in the $5 to $15 million range. After accomplishments in business, Ari says he'd like "to become a teacher, an educator in some capacity."