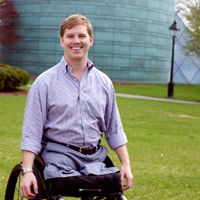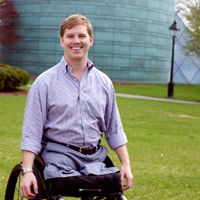 Home Region
Spartanburg, SC
Undergrad Education
U.S. Naval Academy, BS Mechanical Engineering, 2005
Previous Experience
Jones Day; Office of Senator Lindsey O. Graham; U.S. Marine Corps
HBS Activities
Student Armed Forces Alumni Association
"The section experience is a forcing mechanism that expands your understanding of the world."
It's not uncommon for HBS students to attribute their interest in business to a turning point in their lives. But in Andrew Kinard's case, that point was as precise as it was violent: a blast from a roadside bomb in Iraq that left him without the use of both legs.
"Before, as a graduate of the Naval Academy, I strongly considered a life as a career officer and possibly a law degree to go with it," Andrew says. "How do you wake up from a coma and say, my legs are gone, what do I do now? I knew I had the best job I'd ever have — leading Marines. But looking forward, where would I go next?"
Much of that immediate future was occupied by seventy-five surgeries and eighteen months of rehabilitation. While recovering at Walter Reed Army Medical Center, however, a chance encounter opened new possibilities. "I was approached by a man who said he worked for the Department of Defense (DOD). We struck up a conversation; I mentioned I was interested in law school, and he gave me his card. I didn't think much of it at first, but when I showed the card to a friend, he got all excited. 'General Counsel? That means he's the boss!' That man was Jim Haynes, and I went to work for him for six months."
Recognizing Andrew's potential, Jim Haynes recommended Harvard Law School. "Growing up in the South, Harvard wasn't part of my vocabulary," Andrew says. But he took the plunge.
Not just how, but why
"Law school is a terrific place to strengthen one's mind — the academic rigor is unparalleled," says Andrew. "But I found myself in contracts class last year wanting to know why the parties wanted to come to an agreement in the first place. Remedies and interpretation are important, but I also wanted to understand the underlying economics of the deal."
Andrew applied for the joint JD/MBA program and a new kind of career path emerged. "Lawyers play an important role," he says, "but I want to focus my efforts in creating value, in putting something tangible together, like a product or an organization."
Just midway through his first year at HBS, Andrew has already experienced the impact of his business education. Long involved with the Wounded Warrior Project, a nonprofit that "helps veterans recover in mind, body and spirit," Andrew had been elevated to the board of directors. At a recent meeting, "I saw an immediate improvement in my ability to understand and contribute. I'm helping set the annual budget. I was able to understand the cash-flow statements and how they connected to our balance sheets and income statements. What had once been elusive to me had become an everyday exercise as a business-school student."
"Looking back," Andrew says, "I can see that the beauty of the section experience is that you get to know people you wouldn't have met before. You're exposed to cultures you wouldn't have seen. In my section of ninety people, forty-two different countries are represented. The section experience is a forcing mechanism that expands your understanding of the world."
"It's no accident we're accepting of conflicting opinions," Andrew explains. "We literally had classes on how to take classes. HBS places a large emphasis on setting common values with respect to differing opinions, on developing acceptable norms about how to promote discussions. That emphasis is invaluable — having a breadth of experiences has been both professionally and personally enriching."
The next, next
In addition to leading Marines, working in the DOD, and volunteering for Wounded Warrior, Andrew has gained legal experience with an internship at Jones Day and has served "as an assistant in military legislative matters" in the office of Senator Lindsey O. Graham. For his HBS summer internship, Andrew plans to join the Fortress Investment Group in New York, where, "I want to continue my exploration of how the world works. Fortress is a global hedge fund with a strategy that involves the macro-economic forces shaping the world."
Beyond his joint degree, Andrew says, "I don't know exactly where I'm going yet. But I'll continue with the Wounded Warrior Project, and I know that I want to serve in both the private and public sectors. Working with my fellow veterans has reinforced my desire for public service."