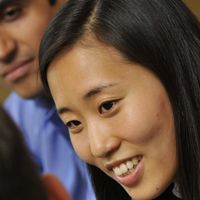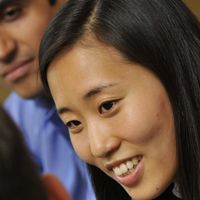 Home Region
Seoul, South Korea
Undergrad Education
University of Pennsylvania, BS Economics, 2004
Previous Experience
Avon Products, Synovate, Lord & Taylor
HBS Activities
WSA co-chair of 2010 Entrepreneurship panel, Asia Business Club co-chair of 2010 Consumer Product/Retail panel
"The level of energy was so much higher than in other places I'd seen."
As an assistant buyer fresh out of college, Arum Kang felt ready to test her quantitative skills on the retail floors of Lord & Taylor in New York City. "I'm very analytical," Arum says. "Working with consumer data and tangible goods is very satisfying to me." But one day, contrary to her expectations, a line of children's hair accessories failed to post the sales numbers she had anticipated. "When I got to the floor," Arum says, "I saw that my product was crowded among too many competing accessories, and there weren't enough salespeople available to help customers find it. I suddenly realized how physical business is, how everything in the value chain, from shelf set-up to visual presentation, have to work together to make the ultimate sale."
After Lord & Taylor, Arum moved to Avon where she became part of the first sales-analytics team in the U.S. branch of operations. "The company suffered from slow growth and was making its first major investment in research. It was an exciting time, everything was new. We weren't just creating new models, but had to explain why they were needed and how they could be used."
Lessons that stick
With a goal of opening her own business — "I come from a family of entrepreneurs," Arum says — she looked at MBA options. "Initially, I wasn't going to apply to HBS. But when I visited a friend at the school, I sat in on a case about Zara, a fashion brand. I was totally blown away by the class. The discussion was so lively and the students so focused; the level of energy was so much higher than in other places I had seen." Arum hadn't read the case and did not take notes, yet Zara has stayed with her. "Just by listening to the class," she says, "I've been able to remember how Zara distinguished itself from its competitors. That's the HBS difference: The things you learn through the case method stick in your head."
HBS has continued to exceed Arum's expectations. "I thought the Leadership and Corporate Accountability (LCA) class would be so dry," she says. "But it's really challenged me to think about what kind of responsibilities business leaders have to their company, shareholders, and even to their community. It ultimately was a course in leadership beyond the context of just business. We face difficult and sensitive topics — discussions I've never had in any other setting. Among my sectionmates, I feel safe raising questions I've always wanted to ask, but couldn't."
Pursing the higher mission
Eventually, Arum would like to return to Asia to work for a small, online retail company, then open something of her own. Whatever the business, however, Arum says, "It's important for me to know that my job has a higher mission."
In her summer internship with Amazon.com, for example, Arum will take on a product manager role in children's books. "In class, we've been talking about changes in the publishing industry, like ebooks, and I want to be close to the changing dynamics, to see how businesses are coping. But there's a larger purpose, too. Children are reading less. I'll be working with a team that's looking for ways to encourage children to read more."