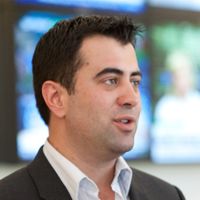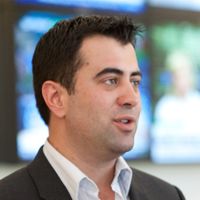 Home Region
Portland, ME
Undergrad Education
Harvard, AB Government, 2006
Previous Experience
Housing Partnership Network, W.R. Berkley Corporation, Corporate Executive Board, The Real Estate Group
HBS Activities
President of Harvard Graduate Council, Entrepreneurship Club, Journal of Law & Public Policy
"The joint JD/MBA gives you the ability to navigate complexity."
For Aaron Chadbourne, entrepreneurship began early. "As soon as I could talk, I was put to work in my grandmother's business – selling vegetables at a roadside picnic table piled high with corn." As Aaron grew up, he helped with every aspect of his family's real-estate agency. "The first day after high school graduation, I got my real estate license," Aaron says. The business was not only a way to earn summer income throughout college, but another way of learning.
"Real estate is an industry where you can really see the interaction of business and law," Aaron explains. "So much was involved in every transaction. When things stalled, it was usually because we were waiting for lawyers. It made me think about the framework for business. The law surrounds so much of what we do, yet so many of us are unaware of its broader implications."
Exposure to private and public leadership
Interested in an education that combined business and law, Aaron applied to both HBS and HLS and received a one-year deferral.. That year, Aaron worked for the VIP Forum of the Corporate Executive Board in Washington, D.C.. "The group shares best practices among high-level wealth managers. It gave me exposure to the kinds of problems senior level executives think about. Within a week, I was on the phone with executives eager to talk to me because I could connect them with resources they needed."
The joint degree would also open opportunities to explore another interest: entrepreneurial approaches to social and public policy issues. For his second summer internship, Aaron received a social enterprise fellowship from HBS and worked with the Housing Partnership Network in Boston, a national network of affordable housing and community development organizations. "I worked with each business line to review strategic objectives within the larger organization picture," says Aaron. "We helped write regulatory proposals for HUD, applying legal analyses that allowed us to engage in substantive policy discussions."
Different teaching styles
Aaron believes that professors "teach very differently at each school. The Law School emphasizes logic and has forced me to examine the way I reach conclusions. HBS is more creative – there's more freedom to explore ideas through the eyes of case protagonists. But my classmates are amazing at both schools. You learn so much from the people around you and the experiences they share. As a whole, the joint JD/MBA gives you the ability to navigate complexity."
During the Winter Term, Aaron collaborated with two HBS colleagues and Professor Brian Hall on a field study "examining the choices made by Kenneth Feinberg, the Special Master for TARP Executive Compensation. We wanted to write a case looking at his compensation decisions and their implications." Upon its completion, the case was taught in Managing, Organizing and Negotiating for Value, an advanced negotiation course in the Elective Curriculum.
This summer, Aaron will do back-to-back internships with Bain & Company and UNUM, an insurance company in long-term disability and employee benefits. "I'll work in strategy and operations to examine new opportunities and challenges related to regulatory reform."
Aaron is open to a variety of career opportunities after graduation. "I have a lot more exploring and learning to do, but eventually," he says, "I'd like to work on my own business, something in which I could apply private business practices to social-enterprise objectives that would have a large impact on the world."