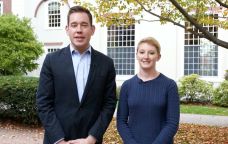 The LGBTSA is a group of LGBT students, partners, and straight allies. We work to maintain a supportive environment for LGBT students in the classroom, in corporate recruiting, and on campus. We also strive to increase awareness and understanding of LGBT issues at HBS and in the business community.
Annual Events
National Coming Out Day Celebration

Pink Party (Annual Club Fundraiser)

Welcome Event for Admitted Students

Club Email Address
lgbt@studentclubs.hbs.edu
Club Co-Presidents
Nathan Miller
Sho Shafiei
Club CFO
Roland Yang
royang@mba2019.hbs.edu
Mailing Address
Student Clubs of HBS, Inc. - Lesbian, Gay, Bisexual, & Transgender Student Association
Harvard Business School
117 Western Ave.
Boston, MA 02163