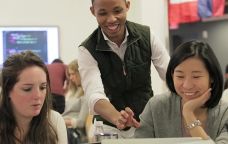 Our mission is to bring technologists together at HBS. We want to keep our technical skills sharp and create accountability to learn and build while getting our MBAs.
Club Email Address
code@studentclubs.hbs.edu
Club Co-Presidents
Shravan Narayen
Adam Helitzer
Club CFO
Lilian Chen
lichen@mba2019.hbs.edu
Mailing Address
Student Clubs of HBS, Inc. - Code
Harvard Business School
117 Western Ave.
Boston, MA 02163